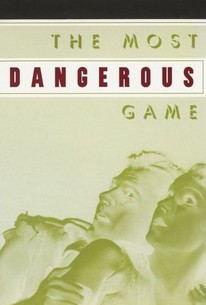 The Most Dangerous Game
1932, Horror, 1h 3m
23 Reviews
2,500+ Ratings
Where to watch
Rent/buy
Rent/buy
Subscription
Rate And Review
The Most Dangerous Game Photos
Movie Info
When legendary hunter Bob Rainsford (Joel McCrea) is shipwrecked on the perilous reefs surrounding a mysterious island, he finds himself the guest of the reclusive and eccentric Count Zaroff (Leslie Banks). While he is very gracious at first, Zaroff eventually forces Rainsford and two other shipwreck survivors, brother and sister Eve (Fay Wray) and Martin Towbridge (Robert Armstrong), to participate in a sadistic game of cat and mouse in which they are the prey and he is the hunter.
Genre: Horror

Original Language: English

Director: Irving Pichel, Ernest B. Schoedsack

Writer: Richard Connell, James Ashmore Creelman

Release Date (Theaters): wide

Release Date (Streaming):

Runtime:

Distributor: Reel Media International [us], RKO Radio Pictures, Sinister Cinema, Criterion Collection

Production Co: RKO Radio Pictures Inc.

Sound Mix: Mono
Audience Reviews for The Most Dangerous Game
Englishman Leslie Banks has a whale of a time as a mad Russian on a faraway island who enjoys giving dinner parties, a stiff drink, a good cigar, some light piano playing and then perhaps a midnight hunt. But who hunts in the middle of the night? Joel McCrea joins Fay Wray and Robert Armstrong (both fresh from King Kong, and they use those sets too) on a not-so-magical trip to a desert island. Rousing adventure.

What a deliciously creepy and suspenseful film this is. We know what's coming, but that doesn't stop us from feeling real tension that builds into a crescendo with an extended hunt sequence in the second half of the film. Leslie Banks is fantastic as the intellectual and cruel Count Zaroff, and Joel McCrea and Fay Wray play their parts well. The film is hokey in places (such as a rather comical fighting/wrestling scene), but that adds to its camp value, as did recognizing some set elements from 'King Kong'. I found it easy to overlook the sillier things because the story itself is so strong - well ahead of its time, and re-used in countless movies and TV shows over the decades. A small example of that is the ending, which may remind modern viewers of 'Star Trek II: The Wrath of Khan'. Early on we're given some food for thought with this line: "I was thinking of the inconsistency of civilization. The beast of the jungle, killing just for his existence, is called savage. The man, killing just for sport, is called civilized. It's a bit inconsistent, isn't it?" We get action in the form of a shipwreck and shark attack. We get eeriness and sadism in the Count, as well as a pre-Code ominous hint of intended rape ("Kill! Then love."), and that's all before an exciting game of "outdoor chess". There's a lot to like in this action-packed and fun film.

The 1932 film "The Most Dangerous Game" is directed by Ernest B. Schoedsack and Irving Pichel and stars Joel McCrea and Fay Wray. It is based off the short story by Richard Connell. Bob Rainsford (Joel McCrea) is aboard a luxury yacht with other guests. He is a world renowned big game hunter and he talks about it with the fellow passengers when one asks if it's any fun for the tigers? The passenger makes a suggestion that it would not be so fun if he was in the tiger's place and being hunted. Rainsford replies there's only two types of people, those who hunt and those who are hunted. The ship then runs aground and Rainsford is trapped on this mysterious island where he finds a chateau. A Russian expatriate named Count Zaroff (Leslie Banks) lives there after escaping the Revolution with all his money. He tells Rainsford there are others who have become shipwrecked and introduces him to them. Zaroff then talks about how he has travelled the world hunting animals, even receiving a scar from a buffalo. He then talks of how he has become bored with hunting. He tried using a new weapon, but then decided he needed to hunt a new animal. Rainsford asks him if it's tigers to which Zaroff replies that it's the most dangerous game. Another shipwrecked guest named Eve Trowbridge (Fay Wray) is suspicious of Zaroff and tries to warn Rainsford. She tells him that the Count is keeping them from returning to the mainland and that there were originally four, but two Sailors were taken to the Count's trophy room and never seen again. Rainsford doesn't believe her. But once Eve's brother goes missing and the two find Zaroff's trophy room full of mounted human heads. It becomes obvious that humans are the most dangerous game. The movie is only 63 minutes long and the last 25 minutes is extremely exciting. Leslie Banks as Zaroff is pure evil and he really is the best part of the movie. It has some amazing sets that were originally built for the movie "King Kong." The ending is unsatisfying, but exciting. Decent enough movie to view at least once.

An impressive classic suspense thriller. The Criterion disc release is a treat.
See Details