Motorway (Che sau)
(2012)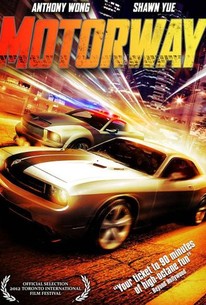 AUDIENCE SCORE
Critic Consensus: No consensus yet.
Motorway (Che sau) Photos
Movie Info
A brash young cop teams with a retiring police force veteran to catch a pair of ruthless jewel thieves whose skills behind the wheel have made them Hong Kong's most wanted. Cheung (Shawn Yue) is part of the Stealth Drivers, a clandestine Hong Kong police unit comprised of the department's best drivers. Years ago, Cheung's mentor Lo (Anthony Wong) was nearly killed chasing elusive getaway driver Sun (Guo Xiaodong). In the wake of that fateful pursuit, Lo gave up life in the fast lane. But when Sun boldly springs his criminal cohort Huang Zhong (Li Haitao) from jail, Cheung implores Lo to pass on his legendary driving skills. Later, when Sun and Huang execute a daring jewel heist, ambitious rookie Cheung uses his newfound skills to beat them at their own game.
Critic Reviews for Motorway (Che sau)
Audience Reviews for Motorway (Che sau)
½
Soi Cheang's Motorway definitely lives up to its title.
If there is anything lacking here, it's probably a little more story and plot detail because with a run time that never reaches 90 minutes, a lot of time is spent with cops chasing criminals in cars. That's not to say that this film isn't entertaining because it is, but there really is just enough plot to get by.
The car sequences are filled with adrenaline with some nice camerawork and stunt driving to back it all up. The parking garage chase alone warrants attention.
Shawn Yue is a little monotone with his performance, but it's good enough. Anthony Wong and Ka Tung Lam are no strangers to this type of film and fit in nicely. Barbie Hsu, Josie Ho, and Michelle Ye are the lovely ladies that show up as needed.
There really is no secret to Motorway. It's just a drive through the park at high speed.
Motorway (Che sau) Quotes
There are no approved quotes yet for this movie.