The Movie Hero
(2003)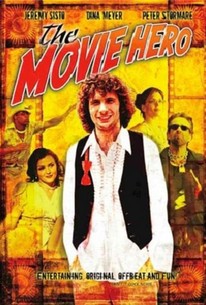 AUDIENCE SCORE
Critic Consensus: No consensus yet.
Movie Info
Blake (Jeremy Sisto) is like a lot of people living in L.A. He believes he has an audience following him around, watching everything he does. He addresses the camera nearly constantly, and it becomes clear that we are Blake's audience. He spots a Suspicious Character (Peter Stormare of Fargo, who also contributes the film's closing song) on the street and follows him. He tells the man, "I know what you did," even though he doesn't know. The cops warn Blake to stop harassing people, but he owes it to his audience to fight evil. Blake gets a surprise visit from his parents (Marcia Strassman and Eric Pierpoint), who are surprisingly understanding about his mental state. His mother tells him they showed up unannounced because, "We know that your audience hates phone conversations." Blake advertises for a sidekick to help him fight evil, and meets a young, unemployed black comic, Antoine (Brian White), who doesn't have anything better to do. Blake is hesitant to hire him ("I don't do clichés"), but Antoine reassures him that he is not a stereotype. Another run-in with the Suspicious Character gets Blake arrested, and sentenced to visit Elizabeth (Dina Meyer), a beautiful court-appointed therapist. Blake immediately recognizes her as his Love Interest, and her demurrals only reinforce his belief. Even the fact that she's engaged doesn't dissuade him. "He must be a total loser compared to me," he surmises. He thereafter refers to her betrothed as Doomed Fiancé (Carlos Jacott). Blake has a difficult time getting Elizabeth to see things his way, but his jovial personality begins to win her over. Meanwhile, he learns the sinister nature of Suspicious Character's behavior. The Movie Hero marks the feature debut of writer/director Brad T. Gottfred. It was shown at the 2003 Rhode Island International Film Festival.
Critic Reviews for The Movie Hero
Audience Reviews for The Movie Hero
Being such an avid movie fan, this film really spoke to me. I could relate to the main character and i loved the plot. it was silly and funny and i really enjoyed this (:
The Movie Hero Quotes
There are no approved quotes yet for this movie.