Mr. Freedom
(1970)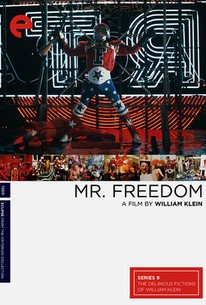 AUDIENCE SCORE
Critic Consensus: No consensus yet.
Movie Info
Mr. Freedom, a pro-America superhero who fights for God and country by beating, robbing, raping and killing anyone who looks like they might disagree with him. When he hears that France is in danger of falling to the Commies, Mr. Freedom heads overseas to set things right. When the welcome he receives isn't quite as warm as he expected, he gives up hope of steering the French away from the Reds and decides to salvage what he can by destroying the entire country. -- &copy Jean-Marc Rocher
Rating:
NR
Genre:
, , ,
Directed By:
Written By:
In Theaters:
On DVD:
Runtime:
Studio:
Grove Press
Audience Reviews for Mr. Freedom
As subtle as a double-time "Stars & Stripes Forever," "Mr. Freedom" is a broad political satire that uses ridiculous superheroes to symbolize clashing Cold War countries. Mr. Freedom (John Abbey, who presumably was cast for physical size rather than acting skills) is a red, white and blue-clad, sloganeering meathead who is sent overseas to defend France from invading Communists. France is dryly described as the "white man's burden," and the stereotype of the country being a wartime doormat is cruelly milked. When Mr. Freedom arrives, he is given a raucous welcome by the crusader allies already on site. Like him, they dress in bizarre, patriotic outfits accessorized with what looks like leftover padding from linebackers, baseball catchers and motocross riders. Most important among them is Marie-Madeleine (Delphine Seyrig), the widow of the group's former figurehead Captain Formidable. She's game to wear a huge orange wig, but is deliciously alluring all the same (arguably, she is also the film's only solid performance). Another member of this tribe is "Mr. Drugstore," played by none other than legendary songwriter Serge Gainsbourg (who also wrote the score). He doesn't have many lines, but he delivers a radio spiel at one point (in English!) and is allowed to cut loose with some silly physical humor. Donald Pleasance adds a small role as Mr. Freedom's distant commander, but only appears in closeup via the monitor of his protà (C)gà (C)'s wrist communicator. Mr. Freedom's chief adversaries include Super Frenchman, Moujik Man (standing for Russia) and Red China Man. Moujik Man (what is Philippe Noiret doing here?) wears an absurdly puffy, Michelin Man-style outfit, while Super Frenchman and Red China Man are both presented as life-size balloon figures (seriously). Red China Man -- a giant, snorting parade dragon rippling with gusts from whatever fan system is enclosed inside -- really can't be done justice with words. Be forewarned: This is hardly a pro-America movie. Mr. Freedom is consistently portrayed as a dimwitted cheerleader who speaks in vacuous clichà (C)s -- he's like "The Tick" come to life. He's also casually sociopathic about killing anyone who poses the tiniest obstacle to him. Yet for awhile, Marie-Madeleine's young son is the only person who realizes what a bullying creep he is. Meanwhile, writer-director William Klein ("Who Are You, Polly Magoo?") takes numerous potshots at Madison Avenue and inserts all sorts of garishly packaged products into the background. In one crazy scene, Marie-Madeleine revives Mr. Freedom from a bloody, stigmata stupor by stuffing him with a revolting mound of cereal poured from a box marked Corn Flakes on one side and Rice Krispies on the other. Another scene takes place in a girlie-staffed supermarket that looks like Andy Warhol's worst pop-art nightmare. "Mr. Freedom" is so uniquely insane that one feels guilty trashing it, but it's really not much more than a campy, '60s-era laugh. Still, the costumes alone make it a can't-miss spectacle.
Eric Broome
Super Reviewer
An awesome aburdist movie about a violent right-wing pro-American superhero sent to France to help "save" France from itself. Really insane costumes and sets and Delphine Seyrig was really nice to look at and in brief apprentices Donald Pleasance was great and really loved that the US Embassy was basically a Wal-Mart. Although I really loved this film I could see many hating it for it's political message but I love it's guts, for saying what it does and honestly still now the message does kind of resonates as it did in 1969.
Arthur Pinkham
Satirically charged comedy that's more concerned with venting its own anger than telling a good story. Not helping matters is a decidedly obtuse commentary on American imperialism. By exaggerating the subject matter beyond all recognition, William Klein has created a work of self-serious irrelevance. But maybe that's what he wanted.
Trent Johnson
Mr. Freedom Quotes
There are no approved quotes yet for this movie.