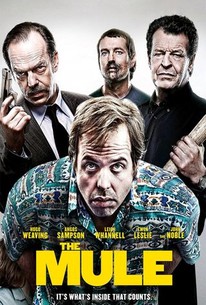 The Mule
2014, Comedy/Drama, 1h 42m
31 Reviews
1,000+ Ratings
What to know
Critics Consensus
Smarter than its scatological premise might suggest, The Mule offers solidly explosive laughs for fans of dark comedy. Read critic reviews
Where to watch
Rent/buy
Rent/buy
Rent/buy
Rate And Review
Movie Info
A first-time drug mule tries desperately to prevent his body from giving up its lethal cargo after Australian authorities take him into custody.
News & Interviews for The Mule
Audience Reviews for The Mule
For a film about a dude refusing to shit for close to 2 weeks, this is a pretty goddamn smart film. It's a little more 'serious' than I would've anticipated but it's still very much a darkly comic film. It's actually surprising in the sense that the film, despite its subject matter, is a little unassuming. What I mean by that is the fact that the movie sort of sneaks up on you with how good it actually is. It just kept getting better and better and its story weaves in various characters different motivations with to keep it from centering so much on Ray's self-forced constipation. It's not like this has Tarantino-level complexities as it relates to character interactions, but it's a little deeper than you would have believed if you knew nothing about the film. It's also got some quite gross scenes but it actually isn't played for laughs like it'd be in other films. It actually goes farther to show you how far Ray would go to avoid being caught and Angus Sampson's performance during this scene, the way he sold his own disgust, was absolutely incredible. It's what made the scene so damn effective, the way that he sold it. And that's another thing honestly. I think I've seen Angus in, maybe, 4 movies, including this one, and I've always thought that he was a good actor, don't get me wrong, but I think this film sees him at his absolute best. It's definitely a movie that requires a little more from him and I think he more than delivers. It's not like this is Sampson's There Will Be Blood, but I thought the guy was great here. He can believably play a naive, somewhat impressionable, man who's willing to not only avoid getting caught, but also do anything for the people who he believes are his friends, who got him into this situation in the first place. It's the story of a very lonely man with few friends honestly. It's how he's taken advantage of by these people and how, in all his naivete, simply does not see that. And I think Angus plays the role perfectly. So good on him for being able to stretch his range out past what he would normally do. And yes, I know how silly that sound when you look at the film's plot from outside the box. The movie does an absolutely fantastic job at making this ordeal look incredibly torturous. They don't play it for laughs, though parts of it are comical. But it makes it look like it is. An incredibly painful and horrifying experience to go through. Not that many people would, willingly, put themselves through this. Hugo Weaving is great as well, as usual. His character definitely entertained me and I liked the little role reversal at the end there. The film is really well-cast, honestly. So no complaints on that front. As mentioned, how good the film is really sneaks up on you. There was just something about the story that definitely drew you in and made you invested in seeing Ray get out of this situation scot-free, but you want to see the 'villains' get their comeuppance for their manipulation, betrayal and murder. The soundtrack to the film is also pretty damn great. Mostly electronica/techno and it is great. Fits the tone of the film perfectly. While I wouldn't call this movie great, it's honestly very close to it though, I don't think I have many complaints about this movie. The fact that it sneaked up on me is actually more of a positive than a negative, because it's not like the movie was ever bad and it only got good in its climax. It's the film that's good from beginning to end, but it kicks it up a couple of notches just as it starts to reach the climax. Very good movie with great acting and smart writing, so this is an easy recommendation to say the least.

I can't see it having an especially high replay value, but this Australian Drama has just enough other elements (top actors, nostalgia, humour, cohesive story, Strine-isms, well managed characters and and the ability to make Angus Sampson's intent to do nothing, actually pretty interesting)to make for a great one-off runthrough.
See Details