A Murder of Crows
(1999)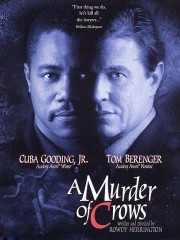 Tickets & Showtimes
A Murder of Crows Trailers & Photos
Movie Info
In this suspenseful drama, a disbarred lawyer forgoes the writing of his own book in favor of taking credit for that of a writer who is murdered shortly after giving the attorney his unpublished manuscript to read. A murder-mystery, the book becomes a best-seller and once again the former lawyer finds himself at the top -- until the circumstances of the real writer's death and a series of other deaths lead police to accuse him of being a serial killer.
more
News & Interviews for A Murder of Crows
Critic Reviews for A Murder of Crows
Audience Reviews for A Murder of Crows
Great Thriller. Solid Story, great acting, and my fav great Costumes.
Amitraj and Andrew Stevens productions are very random.
Mark Pellegrino is very under rated actor. He is a Multi Talent I tell you.
Sometimes a film is so well written, that even though you know what's coming, you're still on the edge of your seat. A Murder of Crows is an independent film with some big time star power, that makes a terrific story that much better. The film focuses on Lawson Russell, (Cuba Gooding Jr.) a successful New Orleans defense attorney, who suddenly finds his conscience. A series of events leads to his disbarment, so he begins life a new in Key West. Once there, he meets a lonely old man looking for a friend. The old man insists that Russell read his crowning achievement, a novel. Russell is more than impressed with the book and goes to tell his friend about it when he finds that the old man has died. Russell then suddenly loses his conscience again and decides to pass the book off as his own. Russell's life seems to be back on track until the FBI shows up and arrests him. As it turns out, the murders depicted in the book weren't fiction and Lawson Russell is the prime suspect. From there the film turns into a mystery, who was this old man? Why did he set Lawson up? Who is the real killer? As I said the story is ingenious and very well written, unfortunately, I watch a lot of movies and actually figured the whole thing out, twenty minutes into the film. It wasn't that the film was predictable, most of the other reviews I've read seem to suggest that most people were shocked by the ending. I have no idea why I figured out what was going on so quickly, but this film is so good, that even knowing what was going to happen, I still loved it. Cuba Gooding Jr. was just off the charts good in this movie, he brings such energy and charisma to this role, that it easy rivals his Academy Award winning performance in Jerry McGuire. The rest of the cast is terrific as well, but all the other parts were seemingly bit parts that centered around Lawson Russell. This movie was the perfect fit for Cuba Gooding Jr. and was one of the best written films I've seen all year. A Murder of Crows proves that you don't need a big budget, with huge special effects, in order to make an extremely entertaining film. Gems like this one are rare, but ultimately are the whole reason I watch Independent films.
A Murder of Crows Quotes
Clifford Dubose: Lawyers represent the victory of reason over righteousness.
Clifford Dubose: You're going downtown!
Lawson Russell: On what charge?
Clifford Dubose: Arrogance.
Lawson Russell: I'll say it once again. It's an immutable fact of life. The strong will always thread on the weak. But every once in a while, we get a little bit of justice. That's all we can hope for.
Discussion Forum
Discuss A Murder of Crows on our Movie forum!
News & Features