Mutluluk (Bliss)
(2009)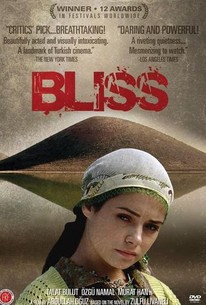 Movie Info
Three people meet under unlikely circumstances and change each other's lives in this Turkish drama from director Abdullah Oguz. When an unmarried teenage girl is believed by her family to have given up her virginity, she is ordered to be killed out of shame. But before her relative is able to complete the task, the two encounter a college professor in the midst of an existential crisis. With each of their futures held in the balance, the trio embarks on a journey together.
News & Interviews for Mutluluk (Bliss)
Critic Reviews for Mutluluk (Bliss)
Audience Reviews for Mutluluk (Bliss)
½
Overall I thought this movie was pretty decent, but it was lacking something. By the end, it almost turned into a really good movie, but it just didn't get there. Maybe it's because the story was a little bit on the dull side and the acting was lacking in some parts. Plus there's no real connection or chemistry between the leads. Cemal spends the entire movie treating Meryem like crap and at the end he just says he loves here. And he doesn't even say it to the girl. Talk about anticlimatic. I think there was a really good movie here but it isn't as well developed as it should've been, but it's not a bad movie.
Jesse Ortega
Super Reviewer
An interesting story plot that follows the plight of a young woman whose life forever changes after a horrific experience while out herding sheep. She is rescued the following morning, and taken home but now harbors a dark secret. After trying to obtain the truth from his daughter, her father abides to the wishes of his trusting cousin and allows his daughter to be sentenced to 'death' at the hands of his nephew. After his arrival home, Cemal must carry out his father's wishes and reinstate the family honor. After leaving with Meryem, they travel to Istanbul and it is there that he is told to kill her. With several attempts, Cemal cannot do it and the two travel outside the city. They meet an elderly professor, and the two set sail with him along the coast. In the midst of the adventure, his father and male cousins search for the two and Cemal learns the truth of Meryem's dark secret. Mesmerizing scenery. Özgü Namal, Talat Bulut, Murat Han, Mustafa Avkiran, and Emin Gursoy stars. Definitely worthy!
Hard subject, but easy movie to watch. Difficult to understand the 'old world' mentality regarding women....but that is the charm of the movie as I watched the main characters grow outside of the traditional protocol, and just become. It is worth 106 minutes of your life to witness the journey into their future beyond suppression, expectations, and tradition that may sometimes mask regular old evil and manipulation. Interesting movie.
Cynthia S.
Super Reviewer
Mutluluk (Bliss) Quotes
There are no approved quotes yet for this movie.