My Cousin Rachel
(2017)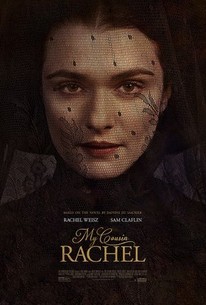 TOMATOMETER
AUDIENCE SCORE
Critic Consensus: Excellent cinematography and Rachel Weisz's entrancing performance keep My Cousin Rachel alluring despite a central mystery that's rather easily unlocked.
Movie Info
A dark romance, MY COUSIN RACHEL tells the story of a young Englishman who plots revenge against his mysterious, beautiful cousin, believing that she murdered his guardian. But his feelings become complicated as he finds himself falling under the beguiling spell of her charms.
News & Interviews for My Cousin Rachel
Critic Reviews for My Cousin Rachel
Audience Reviews for My Cousin Rachel
½
The film's approach is so heavy-handed that it is almost impossible not to think of its protagonist as an idiot and the whole attempt at ambiguity completely lost, trying so hard to convince us of something only to surprise us with an ending that insults our intelligence.
Carlos Magalhães
Super Reviewer
An ambitious try at combining lessons about social prejudice with a basic mystery thriller. This invites the audience often to think the worst of continental Rachel, but nothing is clear, and jumping to conclusions gets you nowhere - is Rachel just culturally different, or actually bad, and who decides what bad is? Is she a victim of the assumptions of the English side of the family, hopelessly romantic on the one hand, and intent on protecting the wealthy estate on the other, or is she a grasping manipulatrix? There was plenty of "I told you so" tutting by the audience when Rachel serves the dubious, foreign tea. The ending more or less tells you the answer, albeit with loose ends. The mixed-race character of Rachel is always in-between - she lacks both the instant, deep fire of her Latin side, nor is she coldly adding up the ciphers; she needed to illustrate the contradiction, but she is soft and unclear; plus she is dressed in quasi-religious style, black Italian mourning, but isn't particularly sad, nor is she irreverent. Weisz is generous and does what she can with a screenplay and direction that need to be more incisive. Her warm and mellow persona was perhaps not the ideal casting - this was a role more in the Kristen Stewart line. Overall though the performances are good, with interesting male support roles; this is a high quality production with fine sets, costumes, and locations in England and Tuscany. Daphne du Maurier drew her female characters with unfailing accuracy - her specialty was teaching you not to judge people too quickly, exemplified in the classic 'Rebecca'. This follows that idea - it just lacks Ms Du Maurier's sureness of aim.
½
"My Cousin Rachel" is a sadistic parody of toxic masculinity. The film follows Sam Claflin as a young man named Philip nearing his 25th birthday at which time he will inherit the estate of his deceased cousin. He seems nice enough at first, but as the plot unfolds he becomes exponentially more irrational concerning his cousin Rachel (played by Rachel Weisz), vacillating between loving and hating her, suspecting her of malice and trusting her. As hilariously bleak as it seems, one can't really root for either of them because all of their faults tend to outweigh any good intentions they may or may not have. There comes a point at which you realize Philip is an impetuous, manipulative, brash, and selfish man-child who has a deep-seated disconnection with all of womankind. Equally frustrating is the fact that Weisz does a terrific job at making cousin Rachel seem as likeable as she is foreboding. The trailers mostly give away the fact that she might be trouble, so there isn't much of a mystery to solve. Instead the focus seems to be on how Philip is such an entitled brat who deserves all the bad that's coming to him. Aside from this compelling character study, the film is an immaculate period piece with a briskly paced narrative. As for the cinematography, it's probably some of the best I've seen this year. It's a wonderful mix of everything I love about film, but Weisz, as usual, steals the show.
K Nife Churchkey
Super Reviewer
My Cousin Rachel Quotes
There are no approved quotes yet for this movie.