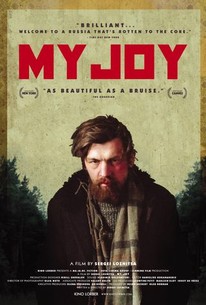 My Joy
2010, Drama, 2h 7m
20 Reviews
500+ Ratings
Rate And Review
Movie Info
A truck driver (Viktor Nemets) embarks on a dark odyssey through Russia.
News & Interviews for My Joy
Audience Reviews for My Joy
In "My Joy," Georgy(Viktor Nemets), a truck driver, is minding his business on a normal haul when he picks up an old man(Vladimir Golovin) as a hitchhiker who regales him with tales of the troubles he had getting home at the end of the Great Patriotic War. When Georgy futilely attempts to get diesel at a gas station, the old man simply walks off. Later, Georgy gets stuck in a traffic jam caused by an accident where a prostitute(Olga Shuvalova) who claims she is 18 tries to drum up some business. Okay, so far, not so bad, with the movie serving as an allegorical rumination on all that has not changed from the old Soviet Union to the new Russia, starting with random identity checks because nobody is really sure who anybody is anymore. Along these same lines, at a scene where the characters are talking about a war, it took me a minute to realize which war. But while it is okay to play with reality a little, here it goes too far which causes the movie to lose the narrative completely, making it almost impossible to follow for a good deal of its second half, which is an accomplishment for me, and not even remotely in a good way.

A melange of scenes, drifting back and forth between post-WWII and the present day (often without warning), featuring crooked cops, child prostitutes and thieves. The stories all document corruption in Russia and Ukraine and argues that it's deep-seeded in the national character; unfortunately, most of them wind up as inconclusive misfires, and the fatalistic sameness of each episode quickly grows wearying and---yeah, I'll say it---a little boring. May require two viewings to figure out what's going on here.

The film possesses you, haunts you, and ensnares you.
See Details