My Left Foot
(1989)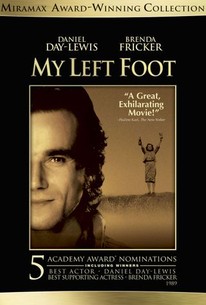 Movie Info
An alternative to the general run of "triumph over the odds" biopics, My Left Foot is the true story of Irish cerebral palsy victim Christy Brown. Paralyzed from birth, Brown (played by Hugh O'Conor as child and Daniel Day-Lewis as an adult) is written off as retarded and helpless. But Christy's indomitable mother (Brenda Fricker) never gives up on the boy. Using his left foot, the only part of his body not afflicted, Brown learns to write. He grows up to become a well-known author, painter, and fundraiser, and along the way falls in love with nurse Mary Carr (Ruth McCabe). There's no sugarcoating in My Left Foot: Brown, a heavy drinker, was by no means lovable. Day-Lewis and Fricker both won Academy Awards for their performances, and the film was nominated for Best Picture, Best Director, and Best Adapted Screenplay. Also notable are the late Ray McAnally in his next-to-last film role as Christy's father, and venerable Cyril Cusack as Lord Castlewelland. Director Jim Sheridan co-scripted with Shane Connaughton from Christy Brown's autobiography. ~ Hal Erickson, Rovi
News & Interviews for My Left Foot
Critic Reviews for My Left Foot
Audience Reviews for My Left Foot
"My Left Foot" may not be the most authentic biopic if you've dug a little bit into the real life of Christy Brown (especially the ending), but Daniel Day-Lewis expectedly keeps you glued to the screen, adding true believability to such an anguished character.
Sam Barnett
Super Reviewer
½
My Left Foot is a stunning real life drama about author and artist Christy Brown. This is superb picture that is brilliantly acted by method actor Daniel Day-Lewis, who would subsequently win an Academy Award for his performance as the adult Brown. For his role, Lewis would study Cerebral Palsy patients for two months and go as far as being fed by someone else. The result is impressive. I've been living with Cerebral Palsy all my life, and though it's not as extreme as Christy Brown case, I found Daniel Day-Lewis' performance to be accurate, well done and superb. I have a minor case of CP, kind of like RJ Mitte from Breaking Bad, but I've lived long enough with CP to notice that all the movements, and muscle spasms that Daniel Day-Lewis made, were dead on. You would swear that he had CP. This is a compelling true story about someone who overcomes great odds to achieve something great in the face of adversity. This is a well crafted movie that is a stunning piece of cinema and is worth seeing if you love stories of triumph, then this is a must see for you. Daniel Day-Lewis is a stunning actor, and his method is legendary and he definitely deserved that Oscar. My Left Foot is an excellent, flawless film that for me, anyways stood out because I related to Christy Brown on a more personal level. For the average viewer, I strongly recommend this one as well, and each viewer can take something special from this movie. This is a very inspirational movie that delivers solid Drama, with a few humorous bits to make for a memorable viewing experience that you soon won't forget. If you come across My Left Foot, definitely check it out, you won't regret it.
½
Cerebral palsy makes a pathetic lump of a lower class Irishman, but his family makes a man of him and do it against the odds. While Daniel Day-Lewis is at turns indeed fiery and feisty as the lead, Hugh O'Conor is blow for blow as the artist as a child. Pretty good stuff.
Kevin M. Williams
Super Reviewer
My Left Foot Quotes
| | |
| --- | --- |
| Mrs. Brown: | You break my heart Christy Brown. Sometimes I think you ARE me heart! |
| Mrs. Brown: | You break my heart Christy Brown. Sometimes I think you are me heart! |
| | |
| --- | --- |
| Christy Brown: | Get in that car before I kick your ass |
| | |
| --- | --- |
| Mary Carr: | And you typed all of it with your left foot? |
| Christy Brown: | I didn't do it with me nose. |
| | |
| --- | --- |
| Mrs. Brown: | If I could give you my legs, I'd gladly take yours. |