My Life to Live (It's My Life) (Vivre sa vie: Film en douze tableaux)
(1962)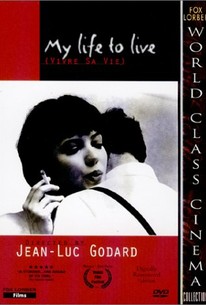 My Life to Live (It's My Life) (Vivre sa vie: Film en douze tableaux) Photos
Movie Info
Director Jean-Luc Godard tries to remain objective in My Life to Live, but shucks, that's his wife Anna Karina in the leading role. Karina plays a pragmatic Parisian sales clerk who briefly entertains the notion of becoming an actress. When this doesn't pan out, she opts for the life of a prostitute. Godard adopts a documentary approach (with facts and figures about the prostitution business recited by Godard on the soundtrack), and at times it's easy to forget that we're watching actors reciting lines. It's much harder to remember there's a plotline, since the director delights in jump-cuts, sudden scene transitions and time-displacement vignettes which leave the audience breathless.
Critic Reviews for My Life to Live (It's My Life) (Vivre sa vie: Film en douze tableaux)
Audience Reviews for My Life to Live (It's My Life) (Vivre sa vie: Film en douze tableaux)
Good...it's a little out there...but then again what do you expect from a Godard movie?

Kudos to the machine gun jump cuts and the rockin song they play on the juke box...anyone know what it is?
Ken Stachnik
Super Reviewer
½
Out of all the films by Jean-Luc Godard I've seen so far, "VIVRE SA VIE" is one of the best, and undoubtedly the most accessible. Anna Karina just radiates on screen (as per usual) and Godard gives his characters room to breathe and tones down his signature stylistic flair to refreshing effect. Some of the most interesting and witty dialogue I've heard from Godard is present here, and feels pulled from a movie made tomorrow (so ahead of it's time). I didn't care for the film's abrupt ending at all, but it was pivotal for the point Godard was trying to make about the subject of prostitution.
the list of actresses that are so polarizing on screen that you cant take your eyes off of them is short, but anna karina belongs on the short list with stars like monroe, jolie, and johannson. she is mesmerizing to watch, and in this film the camera never really leaves her. the final scene is completely nonsensical, but the rest of the film leading up to it was interesting enough and the camera angles godard chooses for many of his shots adds an entire element on interest to the film. the plot and dialogue are reductively simple, but overall the film is very watchable, especially for godard or karina fans.
My Life to Live (It's My Life) (Vivre sa vie: Film en douze tableaux) Quotes
There are no approved quotes yet for this movie.