My Night at Maud's (Ma Nuit chez Maud)
(1970)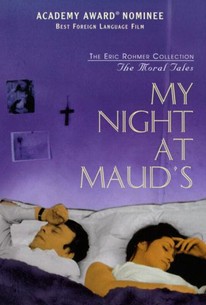 Movie Info
The "my" in My Night At Maud's belongs to the protagonist played by Jean-Louis Trintignant, a Catholic engineer whose struggle with his faith is renewed when he falls instantly in love with a woman he's never met (Marie-Christine Barrault) while attending mass. A chance meeting with an amoral old friend (Antoine Vitez) the same night places him in a potentially compromising situation when he's forced to spend the night with Vitez's alluring acquaintance Maude (Françoise Fabian), a sophisticated woman who challenges Trintignant's belief through intellectual and fleshly means. ~ Keith Phipps, Rovi
Critic Reviews for My Night at Maud's (Ma Nuit chez Maud)
Audience Reviews for My Night at Maud's (Ma Nuit chez Maud)
There are nights and conversations we remember more than whole years. To Jean-Louis, finding a woman like Maud, by pure chance, was a miracle. The miracle of coming clean, stripping his soul, putting aside morals that were detouring him from finding not a perfect match to marry, but another real, flawed human being to start a romance for as long as it takes. The night he spend with Maud, made him gain enough courage to approach the girl he desired. Maybe he could have had something with Maud, if circumstances would allowed him, because passion, admiration and understanding, they had already found all that in each other.
Pierluigi Puccini
Super Reviewer
My first Eric Rohmer film. The Cinematheque at the Cleveland Institute of Art showed a film print of this from Europe. The movie takes its time showing the simple life led by Jean-Louis (Trintignant) in 60's France. He browses for books at a bookshop. He drives around the narrow streets in his compact car. He attends mass where he first sees Francoise (Barrault). He tries to invent ways to casually run into her. Is he just looking for a one night stand, or from this "love-at-first-sight" thing do we believe that he really wants a more long term relationship? His motivations early on are mysterious. Jean-Louis is interrupted from his norm by a chance meeting with an old college buddy, Vidal (Vitez). Vidal knows this recently divorced woman, Maud (Fabian), who he is having dinner with that evening (just as friends) and he invites Jean-Louis along. Maud is a modern woman. She is divorced at a time when that was still not common. She has a daughter, does not consider herself religious and flirts shamelessly with Jean-Louis. The three adults talk on and on about philosophy, religion and relationships. It goes on a bit too long, but for the most part it kept me interested. Jean-Louis admits only a little personal information. Like Maud he doesn't really believe in all the dogmas of the church, but he cannot bring himself to give up his Catholicism all together. He also reveals that he prefers blondes (Francoise) to brunettes (Maud) and though he is talked into staying the night he tries to remain a gentleman. It is difficult for him. He sees both Francoise and Maud again. He gets more serious with one and we are treated to a surprise coincidence between the women at the end. The performances are natural in many cases as if the audience is a fly on the wall.
Byron Brubaker
Super Reviewer
for two hours of philosophical discussions between people trying not to admit they want to have sex with each other this was pretty damn good
Stella Dallas
Super Reviewer
My Night at Maud's (Ma Nuit chez Maud) Quotes
There are no approved quotes yet for this movie.