My Stepmother Is an Alien
(1988)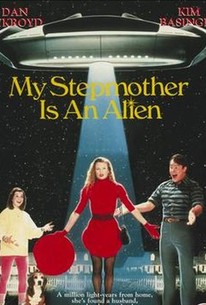 My Stepmother Is an Alien Photos
Movie Info
When lonesome astronomer Dr. Steve Mills (Dan Aykroyd) sees the extraordinarily beautiful but incredibly awkward Celeste (Kim Basinger) at a party, the last thing he would believe is that she is a space alien on a mission to do whatever it takes to save her planet, but he learns the truth when, despite her dubious intentions, he and Celeste decide to marry. Things get dangerous when Celeste's superior, whom she keeps in her magic handbag, decides to take care of matters himself.
Critic Reviews for My Stepmother Is an Alien
Audience Reviews for My Stepmother Is an Alien
Yeah, it's silly, but it's cute and worth watching for Alyson Hannigan as the 13 year old daughter (and Seth Green as her date).
Nicki Marie
Super Reviewer
Ridiculous movie. It tries way too hard to be funny, and then wont stop trying until you're embarrassed to be watching. I like the actors, but they shouldn't have agreed to do this movie. It's much too goofy for its own good. I don't recommend it.
Another film for Aykroyd in 88 only this time in my humble opinion its a weak one with a very silly B-movie type premise and a poor performance from the over hyped (at the time) Basinger. Even Aykroyd can't save this very average film with his usual zany comedy and fast quips, the effects are really dated and I don't think event that good for its time whilst the comedy is lacking, all the film does really is show how poor an actress Basinger is. Look out for a very young Seth Green and of course Alyson Hannigan.
Phil Hubbs
Super Reviewer
My Stepmother Is an Alien Quotes
There are no approved quotes yet for this movie.