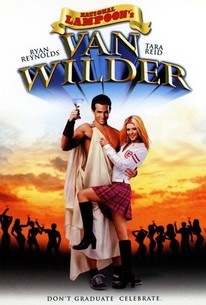 National Lampoon's Van Wilder
2002, Comedy, 1h 35m
98 Reviews
100,000+ Ratings
Where to watch
Rent/buy
Rent/buy
Rate And Review
National Lampoon's Van Wilder Photos
Movie Info
He's the biggest man on campus. He's the boss with the sauce. He's the guy all the girls want and all the guys want to be. 'Cause in the collegiate jungle, there can be only one king ... and at Coolidge College it's Van Wilder. In the grand tradition of comedy classics like "National Lampoon's Animal House" and "National Lampoon's Vacation," "National Lampoon's Van Wilder" will charm you, move you and gross you out.
News & Interviews for National Lampoon's Van Wilder
Audience Reviews for National Lampoon's Van Wilder
You know, I don't know if I've mentioned this before, I know I have on one review that's on RottenTomatoes, said review is not up on Letterboxd, but I legitimately think that Tara Reid is one of the worst actresses I have ever seen, bar none. And, really, let's not put a gender on this, Tara Reid is one of the worst actors, male or female, that I have ever seen. Not that anyone has ever claimed that she's good, I just feel the need to point this out. If any of you have ever seen My Boss's Daughter then you've bared witness to how awful she can be. Ashton Kutcher and Tara, in that movie, were one of the worst rom-com pairings I've ever seen. I think Tara, at this point in time at least, didn't really bother to improve since she was, really, only cast because she was hot, so why would you need to learn to be good at something when you're only cast for your looks??? That's why, outside of the Sharknado franchise, you don't really see Tara in many movies anymore. Part of that is her clear lack of talent, but I think she's clearly not the best person to have on set, she seems like she's not that stable even at the best of times. Tara Reid has been her own worst enemy in terms of her career. But, really, this movie predates all the craziness that would go down. Another thing is the fact, and this isn't even related to the movie itself, that Ryan Reynolds was absolutely born to play Deadpool. Like, seriously, it was apparent from day one, there IS no one else to play this character. Ryan Reynolds may never win an Oscar, but he already has the role and/or character of a lifetime and that is Deadpool and, you know what, to me, that's cooler than winning an Oscar. With that said, this is very much the movie that introduced Ryan Reynolds to the world. And I remember a time, pre-Deadpool, where a lot of people (on the internet, of course) hated Reynolds. I never did, I always thought he was really talented and funny and I think that I became a fan of his, back in the day at least, as a result of this movie, which I actually bought when I was 14. Thought it'd be interesting to revisit this movie as I did another Reynolds movie (Waiting) last week. The first thing I noticed about this movie is how much Reynolds' performance in this movie reminds me of Val Kilmer's performance in Real Genius. I think I even mentioned this in my review of Real Genius. The parallel are uncanny. The only real difference is that Van Wilder is a much more raunchy movie than Real Genius. Oh and there's one other difference and, really, it's the biggest possible difference. Real Genius is actually good, this one, eh, isn't that good in the slightest. Look, I'll be honest, as I always try to be, I've always enjoyed Ryan Reynolds' work, I think he's a better actor than most people give him credit for, but he doesn't always appear in the best of movies. Most of the movies he appeared in pre-Deadpool didn't really make the best use of his talents. He was always good in these movies, yes, but I couldn't say the same for the quality of these movies as a whole. That's not a blanket statement, of course, as The Voices (which might actually be Reynolds' best performace) was very good, Adventureland was great, Buried was fantastic (another one of Reynolds' best performances), but most of the movies he's been in have not been very good and that's a shame. I suppose what I'm trying to say here is that Reynolds tries his damnedest, but this movie is, really, kind of bad. In all honesty, I feel that this kind of tribute to the old-school 80s college movies, with some Animal House, Porky's, Revenge of the Nerds, among others thrown in there, would actually work much better in today's context than it would have worked back in 2002. At the point of this movie's release, the 80s had ended only twelve years prior. I think it's kind of hard to be nostalgic when you're not even a decade and a half removed from the decade ending. And I think that's what this movie sort of misunderstood. Because, again, this is a movie that is straight out of the 80s without any of the heart and the soul of some of those movies, much less the comedy. Now that we are almost twenty-nine years removed from the 80s, I think this movie, handled carefully and intelligently by a talented screenwriter (or a group of them), would be much better today. Because, while this is also very reminiscent of a movie from a bygone era, it also very much wants to compete with the current crop of raunchy comedies, like American Pie. So it wants to be nostalgic and modern at the same time. And this can be done, many people have taking well-worn formulas and modernized it for their particular era, but this movie doesn't really do that. The reason why it doesn't do that is because it seems to be more focused around the raunchy gags than any actual characters that hold your interest. Say what you will about the American Pie movies, and many have throughout the years, but one of the things that most stuck out to me was how there was a strong core of characters at the center of it all. Yes, it was all about the hi-jinks the group find themselves in, but it was also about how these characters, throughout every installment in the "main" movies (as there were spin-offs that used the name but were unrelated to the original trilogy and American Reunion) grew and matured into adulthood. There was progression. Now I understand that this, while there was a sequel and a prequel, was more of a one-and-done, but that doesn't mean that you don't need to make the effort to ensure that the characters at the core of your narrative are strong, even if the film focuses mostly on their sexual misadventures. There are no strong characters, only stereotypes. Van Wilder is the lovable party guy, Gwen is Wilder's romantic interest who also, supposedly, passes off as a journalist, Taj is a racial stereotype of a sexually repressed Indian man, Richard is every 80s fraternity douchebag (who's painfully insecure of his own sexuality). All of these characters are, essentially, walking stereotypes and the movie suffers for it, because it caves in to those stereotypes instead of using it to show us some actual growth and maturity. The movie pretends, but don't let it fool you. The story is so simple and one-dimensional that it's almost amazing they got away with it. Van Wilder's father isn't gonna pay his tuition anymore as he's spent seven years at Coolidge. Van needs to find an alternative way to make money to stay in school. That's all there is to the movie. Gwen's doing a piece on him for the school paper. Van and Richard also feud over Gwen. That's all there is to the movie and it goes like you would expect. Because, essentially, this set-up is just an excuse to use gross-out gag after gross-out gag. They can't be bothered to write an actual script with actual comedy, so they went with what was easy and appealed to as many people as possible. It's not that raunchy comedy can't be effective, but it has to supported by a cast of strong characters and great writing. That's why movies like Superbad work, because the raunchy comedy isn't the end-all, be-all for it to be great. Seth Rogen and Evan Goldberg wrote great characters and a story that saw these characters actually mature and grow. And that's what this movie fails to understand. It uses the least difficult type of comedy to pull off without supporting that raunchiness with a strong script that tells an actual story and features strong characters. I wouldn't even have that much of an issue with this movie if I found the comedy legitimately funny. It would have been incredibly one-dimensional, yes, but at least it made me laugh and gave me some sort of entertainment. But this movie struggled to make me laugh. I don't remember much from when I originally saw the movie, but, damn, if this isn't quite the unfunny experience. I'm not saying that I have high standards or refined tastes, because I don't, I just don't seen any legitimate effort in the comedy here. It's lazy and it doesn't work. At least for me it doesn't. If this made you laugh, hey, go wild (pardon the pun), as I mentioned in a prior review, I'm not here to tell you what you can or can't enjoy. Ryan Reynolds is good in this movie, as he almost always is in any movie, but, like a lot of the movies he's in, this just doesn't do him any favors whatsoever in terms of scripting. This isn't the worst comedy, of course, but the sixteen years in between when this film's original release and now have not been kind. Would not recommend this at all, it's a bad movie.

I'm not exactly what one might call "In to" American comedies, and gross out humour/romantic comedies are pretty much at the bottom of even that list. For a movie that most certainly contains both those two things (the latter in especially heavy doses), I actually didn't mind Van Wilder that much. But it's all about context, if instead of comparing it to a list of similar things that I hate you compared it to, say, the entire history of cinema overall, then National Lampoon's Van Wilder is pretty bad. One additional note, the friend of mine who I put this on for told me that the movie was from the era of "When Tara Reid was still hot". Now personally I've never found any iteration of her attractive, but it did make me have a parallel thought, is Van Wilder from the era when Tara Reid was a better actor? I'm not saying she has been some sort of Oscar-worthy great at any stage, but if I compare her in this to her in, for example, Sharknado 47, despite the extra years of experience, she's definitely worse now, right?

Van Wilder is a decent little teen comedy with a fairly decent cast. Some of the plot has been recycled from better films, but it is mildly entertaining, but in the long run is a very forgettable film that is not worth rewatching or demands multiple viewing. National Lampoon's films by the early 2000's were becoming mediocre to decent, but Van Wilder isn't a bad film, it just isn't a good film either. I thought it had its moments, but never goes above what it should have been. If you're going into this film expecting another Animal House, you'll sadly be mistaken. The film boasts some laughs here and there, and Ryan Reynolds, who I find to be not too bad in terms of acting, makes the film quite enjoyable. There was plenty of room for improvement and considering that National Lampoon has some terrific comedies under their belt, the material could definitely be better. I think that Van Wilder leaves a lot to be desired and it could have been rewritten a few times in order to really make it a stand out feature. Walt Becker's direction is pretty good considering the so-so material. Expect to be mildly entertained by this one; however don't expect anything memorable as this one just doesn't hold like others like Animal House and Porky's. But it does provide decent comedic material even if it's not that good of a movie. Van Wilder is worth seeing once for what it's worth. The film does leave a lot to be desired and you are left wanting more out of the movie.

I'm not a big fan of anything that National Lampoon has had to offer, and "Van Wilder" is no exception at all. The creators of this film go from being raunchy to being just flat-out gross. The outcome isn't very pleasant.
See Details