Nekromantik 2
(1991)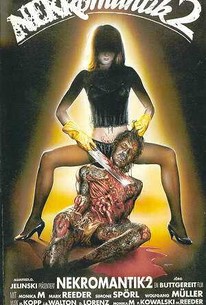 AUDIENCE SCORE
Critic Consensus: No consensus yet.
Movie Info
A German necrophiliac feels torn between her living boyfriend and the corpse of her dead ex in the follow-up to Nekromantik, Jorg Buttgereit's transgressive sex horror debut. Monika M (taking over for Beatrice Manowski) plays Betty, whose former lover, Rob (Daktari Lorenz), committed spectacular erotic suicide after she abandoned him capriciously in the previous film. Digging up Rob's corpse and making love to it in her home, Betty nonetheless stumbles into a more conventional romance with Mark (Mark Reeder), who makes his living providing sound effects for porn films. Alarmed by Betty's insistence that he remain perfectly motionless during sex, Mark considers leaving his paramour -- especially after finding Rob's withered penis in the refrigerator and witnessing Betty and her girlfriends watching videos of animal cruelty just for kicks. Betty, meanwhile, dismembers Rob's corpse but saves the head, setting the stage for another of Buttgereit's over-the-top finales. Although Lorenz, star of the original Nekromantik, appears only in flashbacks, the actor/composer did provide music for Nekromantik 2. Monika M would re-team with her director for 1994's Schramm. ~ Brian J. Dillard, Rovi
Critic Reviews for Nekromantik 2
All Critics (3) | Fresh (3) | Rotten (0) | DVD (2)
...as Nekromantik 2 follows Monika's obsessive pursuit of her love for a corpse, it also catches us viewers out in our own perverse one-way relationship with cinema: a compulsive fetish for mummified movie remains.
From a filmmaking standpoint Jörg Buttgereit's potent stab at transgressive cinema is more in line with the early films of John Waters or David Cronenberg than with the litany of directors associated with torture porn movies of the "Saw" franchise ilk.
Audience Reviews for Nekromantik 2
Jörg Buttgereit has created a sequel to his schlock fest Nekromantik. With this one, he explores the same tasteless ideas that have made the first one such a controversial film. Pushing the boundaries of good taste yet again, Buttgereit recycles idea from his first shameful movie and tries to create something new. The only problem is, is that this is still a dreadful piece of reprehensible trash that never should have existed in the first place. The sequel is nothing new, and doesn't add anything more to the "story" of the first. This is still the same thing, and pushes the envelope just for the sake of disturbing the audience. If you've seen the first one, then you've seen this one. This film isn't worth your time, and it a poor attempt at Exploitation cinema. This was awful the first time around, why would it be good the second time around? Exploitation films tend to go in bad taste department with extremely low budgets, controversial plotlines, excessive gore and violence, but this one goes beyond that. There is not a single redeeming factor about this film; it is disgusting, vile and repulsive. If you're looking for effective shock, look elsewhere. You won't find anything of value here. This is a sloppily crafted film that just reeks of bad taste. There is nothing new here, just the same old crap we've seen before, and with that said, and it is definitely not worth your time. This depravity at its lowest and I can't believe that people consider this a good film. This is an exercise in shock pure and simple and the director simply wanted to push the envelope and he did that, but in doing that he didn't create anything that has any entertainment value. The film was horrible and it is one of the most disturbing and sickening films that I have seen. Avoid like the first film, and if critics think that mainstream Slasher films are in poor taste I wonder what they would think of this one and its predecessor.
Ahh, another crapfest from German shizamaster Jörg Buttgereit. Thank God for whoever invented the FF button.
A.D. Villarreal
Super Reviewer
½
How do you outdo one of the most notorious, extreme splatter movies ever made? Simple: make an art film. Though still chock full of the usual body bonking and assorted gross outs, this is a far more elegant and polished piece of work than its predecessor, more concerned with a mood of unease and melancholia than spraying bodily fluids (until the last five minutes, anyway). Beautiful young nurse and fledgling necrophile Monika (Monika M.) steals into a graveyard and digs up the rotting corpse of Rob, our hero from the first film. She takes his congealed remains home and deposits him in the bathtub, where does some impromptu prep work and dresses him up to pose for homemade photographs. Of course, our happy couple becomes a love triangle thanks to Mark (Mark Reeder), a nice but slightly kinky guy who makes his living dubbing and providing sound effects) for hardcore porn films. When she isn't at home spending quality time with deadbeat Rob, Monika goes with Mark to pretentious art films and watches seal brutality videos, occasionally suspending him naked by his feet. The strain soon takes its toll, however, and Monika devises an ingenious and thoroughly perverse solution for the two suitors in her life. Best known as the film that finally sent the German censors over the deep end (including a well-publicized theatrical raid), Nekromantik 2 uses its comparatively lavish running time for a more ambitious and densely textured narrative. While the corpse scenes are naturally gruesome, there's a strong surrealist sensibility at work that keeps it more curious than repellent. Apart from the aforementioned seal scene, an ill-advised attempt to outdo the bunny footage from the original film, Buttgereit strangely avoids any graphic bloodshed or nasty latex dismemberments for most of the running time. Of course, he's really just saving it up for the powerhouse finale, which amazingly outdoes the Daktari Lorenz's "climax" from Nekromantik. The narrative also has a stronger pull in this case, stopping along the way for some humorous and romantic asides before the ironic final scene. Much credit must also go to the alluring Monika M., a terrific lead who should have gone on to do far more work. (She even chipped in on the lyrical music score, along with five other people) Iam a fan of the 1st Nekromantik film but I liked this one alot more. Not sure if everyone will see the theme of ( be who you are and not what your expected to be) that comes through in the film but thats one more aspect of this film that I really enjoyed. To sum up if your not a fan of the 1st don't bother with this one but if your looking for something off of your usual path of film viewing this is worth checking out,
David Ladd
Super Reviewer
Nekromantik 2 Quotes
There are no approved quotes yet for this movie.