Nenette
(2010)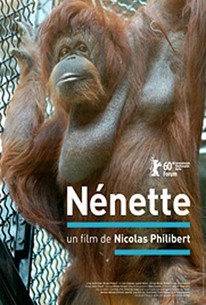 Movie Info
She's a 40-year-old longtime Parisian, with an unruly mop of red hair and soulful, close-set dark brown eyes. Nénette is introspec- tive, perhaps melancholic, but beloved by those who visit her daily. After "having worn out three husbands" and given birth to four children, she's convalescing from major surgery, and looks forward to life's simple pleasures, like tea and yogurt at 4:30 each afternoon. Nénette is an orangutan in the famed Jardin des Plantes Exotiques zoo, and acclaimed documentarian Nicolas Philibert (TO BE AND TO HAVE) captures her day-to-day routine in this charming, poignant and wonderfully funny portrait. She's one of our closest relations -- the one with an enviable chunk of Paris real estate to call her own. 600,000 people file past Nénette's cage annually: admiring her, commenting on her appearance, wondering what her deepest thoughts may be, speculating on whether she misses the forests of Borneo where she was born in 1969. Anyone who has ever indulged themselves at the zoo by watching a favored animal for an extended period of time -- observing its daily routine, its whims, and personality traits - will get a huge kick out of NÉNETTE.-- (C)
Critic Reviews for Nenette
Audience Reviews for Nenette
½
Good, but MAN is this slow. Don't watch this late at night if you're tired. Lots of long, silent moments where not a lot is going on. I understand the idea behind it, and there's a lot of artistic value there, but it is just not always captivating.
Harrison W
½
This Day in Running Out of Caring Today was another day of starting and stopping several movies before settling on one, and it probably wouldn't have been the last one I watched had I not gone out somewhere instead. The movie had a certain hypnotic attraction, but it didn't really feel as though it had anything to say. I tried to watch Baron Larry in [i]The Entertainer[/i], but I couldn't make myself care. I started some zombie movie which would have been fun if it had puppets in the corner, but without them, it was just tedious and pointlessly gory. This just seemed to be the way my day was going, film-wise. I'm always sorry when that happens, because then, I am left grasping at straws and writing reviews that are more about the reviewing process than about the film I actually watched. Like this one. Nénette is an orangutan. She lives with her son, Tübo, in a glass-fronted enclosure at the [i]Jardin des Plantes[/i] in Paris. She has had three mates and four children, and in order to prevent her from being alone, she is with her son. The zookeepers are unsure if orangutans practice incest, and they don't know if Nénette has gone through menopause, so they know they are risking her having offspring with her son, but they consider it to be less of her risk than the problems of boredom and isolation should she be alone. And that's pretty much what happens here. The camera never shows a human, spending the whole movie focusing on the orangutans instead, and all the voices heard are either visitors to the zoo or keepers. Parts of the film are even just silent closeups on Nénette and her son. Honestly, I would have liked to have heard from people who knew a bit more about orangutans. Maybe a biologist. It strikes me that [i]someone[/i] probably knows some of the details about the great apes that the people at the zoo do not, like the very basic example of if orangutans practice incest. Maybe even how to tell if a female has gone through menopause. (Not all female mammals menstruate; some preserve the uterine lining throughout their cycle, and some just reabsorb it into their bodies.) It strikes me that finding an expert on apes would be a better idea than giving Nénette birth control. Surely it would be better for her system to not give her hormones she doesn't need. But if all you're going by is the narration, the assumption is that they just don't care enough to find out, because they never even mention seeking information outside the zoo. I find it deeply frustrating. According to what I've read about the movie, it is supposed to make me think about the nature of keeping animals in cages for our own amusement. Most of the reason it did not was that I didn't feel anyone in the movie was putting all that much thought into it, not as much as I already have. For one thing, at forty, Nénette is already older than she is at all likely to have lived in the wild. Frankly, my bigger problem was that she does not appear to be living in a very nice place. Her enclosure does not seem intellectually stimulating, and the great apes all need that to one extent or another. (Humans more than orangutans, but orangutans more than many other animals.) No shot is long enough for me to be sure about how big her enclosure is, but given what I can find out about the zoo, the answer is probably "not very." So while I didn't think much about the nature of keeping orangutans in cages, I wasn't terribly happy with the specific issue of keeping Nénette in that one. The last zoo I went to was the Point Defiance Zoo & Aquarium in Tacoma, Washington. Before that, it had been many years since I went to the Los Angeles zoo, back when I was a kid on elementary school field trips. I was never a huge fan of zoo trips as a child, in part because the enclosures seemed to me to be a poor substitute for a home in the wild. Point Defiance has a pool of penguins, for example, and it struck me that even Tacoma is probably too warm for them a lot of the year, and the penguins--and muskox, polar bears, Arctic foxes, and so forth of the Arctic exhibit--must be uncomfortable quite a lot of the time. LA's koala exhibit when I was a kid was one large room that was dark during the day and lit at night so the nocturnal animals could be watched by crowds. I think zoos are important--heck, Point Defiance has a red wolf conservation program--but I don't think they're fun. This movie didn't change that.
Edith Nelson
A moving portrait of a grandes dames of a Parisian zoo. It was startiling and revealing to truly look at one animal in this way for an hour. A beautiful film.
Suzanne T
Nenette Quotes
There are no approved quotes yet for this movie.
Discussion Forum
Discuss Nenette on our Movie forum!