The Betrayal - Nerakhoon
(2008)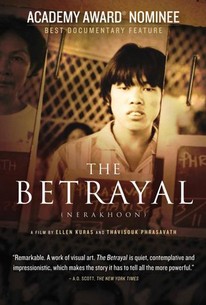 The Betrayal - Nerakhoon Photos
Movie Info
In this documentary, filmmaker Thavisouk Phrasavath details the painful story of how he and his family faced hardship and poverty as Laotian refugees during the Vietnam War. Combining interviews and archival footage, Phrasavath explores not only the experience of betrayal that his family endured when they were forced to flee their homeland, but the larger scheme of geopolitics that put the events into play.
Critic Reviews for The Betrayal - Nerakhoon
Audience Reviews for The Betrayal - Nerakhoon
½
[font=Century Gothic]Directed by Ellen Kuras and Thavisouk Phrasavath, "The Betrayal" is a moving documentary, 23 years in the making. Generally, the film is interested in the promise of the United States and how sadly it often goes unfulfilled, especially as it applies to the country and people of Laos, a near-forgotten part of the wars the United States was fighting in Southeast Asia until 1975.(Even though no American combat troops were on the ground in the country, there was still an incredible amount of bombs dropped.) As the larger history lesson is presented in the background illustrated by archival footage(of special note is Kennedy and Nixon both lying), the story of Thavisouk's family is told in the foreground. Thavisouk's father fought with the American supported guerrillas in favor of the royal government and against the Pathet Lao insurgency. When the United States left, the government fell and Thavisouk's father was sent to a reeducation camp while Thavisouk escaped across the Mekong River to relative safety in Thailand. His mother, fearing she was next, escaped but had to leave two of her daughters behind. The family reunited in Thailand before moving on to the United States. After fleeing the violence of war, they now had to face the violence of gangs on the streets of Brooklyn.[/font]
The Betrayal - Nerakhoon Quotes
There are no approved quotes yet for this movie.