New Town Killers
(2008)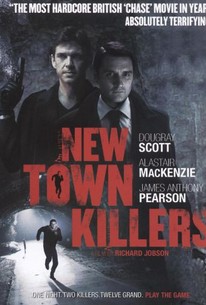 Movie Info
With a premise that suggests an early 21st century variation on David Fincher's paranoia classic The Game (1997), New Town Killers stars Dougray Scott as Alistair, a slimy, ice water-veined financier who gets his kicks and thrills by targeting human prey. His modus operandi involves bringing in an innocent young candidate for a new job, Jamie Stewart (Alastair Mackenzie), and demanding as a prerequisite that the two play a mysterious game together. They must find a down-and-outer and challenge him to escape from their clutches over the course of one long and fateful night. The "prey" on this occasion is Sean McDonald (James Anthony Pearson), an inner-city teen with a serious problem on his hands: his pregnant sister risks being killed by the thugs to whom she owes gambling money. Alistair informs the young man that if he manages to evade them in their chase, he will receive enough money to clear off the towering gambling debts of his pregnant sister; if he loses, he will be killed. Out of concern for his sister, Sean agrees to the contest, though victory seems impossible for two major reasons: first, the crafty Alistair has closed all major exit routes from the city without informing Sean of this, and second, Alistair secretly plants a tracking device on Sean that the young man isn't aware of.
Critic Reviews for New Town Killers
Audience Reviews for New Town Killers
I don't agree with some of the reviews that were given for this film. I quite enjoyed this one. This feature was a game of cat and mouse, but a twisted game at that. Some of the performances were lacking, but I told me self I would be rewarded if I finished it all the way to the ending. I would say a must watch.
Matthew Beale
eh, there are so many holes in this movie that its hard to watch. As it did move forward- each scene started with a "really, umm that's kinda unoriginal guys". And then there was the acting.....that was kinda bad.
Jason Kraynek
½
Caught between wanting to make a bold statement and deliver edge of the seat thrills, New Town Killers is a curious mix.
Roy Gutteridge
Super Reviewer
New Town Killers Quotes
There are no approved quotes yet for this movie.
Discussion Forum
Discuss New Town Killers on our Movie forum!