Night Caller from Outer Space
(1966)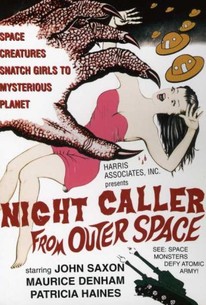 AUDIENCE SCORE
Critic Consensus: No consensus yet.
Movie Info
In this British sci-fi thriller, a spacecraft from Ganymede, the moon of Jupiter, lands in a small community, and the alien visitors set out to find women. It seems that their population has become dangerously low and they need human females for breeding purposes. When the police begin receiving reports of a number of missing women, it takes quite some time before anyone thinks that there could be a link between the disappearances and a dramatic increase in UFO activities. John Saxon plays Jack Costain, an American scientist investigating the UFO reports, while Alfred Burke plays Police Detective Hartley. ~ Mark Deming, Rovi
Critic Reviews for Night Caller from Outer Space
All Critics (3) | Fresh (2) | Rotten (1) | DVD (1)
The premise may be silly, but the film is executed with a straight face and a serious air, and it is generally an entertaining effort.
October 14, 2004 | Rating: 3/5
Audience Reviews for Night Caller from Outer Space
The Night Caller (otherwise known as "Night Caller From Outer Space", or the inappropriately titled "Blood Beast from Outer Space") is a little known British Sci-Fi film which doesn't work on all levels but is an entertaining time passer nonetheless. The film opens with a shot over London, with a strange sphere making it's way across the screen in the distance, all while the organ driven pop tune "Image" plays over the titles. This unknown object is soon picked up by a trio of scientists. As well as the three scientists the military are also on it's trail. Once they catch up with the glowing sphere they recover it and naturally take it back to the lab for research. The team decide to call it a night, all but one, Ann, who happens to stay and do some typing, all while the mysterious glowing sphere sits in the other room (It's here that I began to realise that the cineamatography is actually rather nice in a stylish monochrome sort of way). She soon starts to feel ill and notices the glowing sphere and a strange heavy breathing sound. It's here we get our first glimpse of the creature, and it's nothing but a hilarious looking rubber hand. We don't actually see alot of the creature throughout the film, it's mostly just a tall dark figure hiding in the shadows. If they had left it at this and got rid of the comedy claw it would have been much more sinister. After some scientific jargon and one death the film takes a bit of a change in direction. We have learned that the sphere is actually a portal device transporting the alien Medra. A few weeks later young girls start to go missing. The Police and one of the scientists interview one of these girls parents. This sequence featuring Marianne Stone and Warren Mitchell is actually very amusing as they play the bickering couple discussing their daughter and the man who called on them. From the interview it is learnt that all the girls responded to an ad in Bikini Girl magazine, which was placed by the alien Medra (an alien reading sleazy magazines I here you say!). Then there's some more jargon, another death, and a dirty book store in Soho all leading up to a rather lackluster finale where our hereos confront the alien face to face and it turns out he's not killing the girls just taking them back to his planet for some reason or other. Obviously not great but it does have a few things going for it such as the cinematography and a good cast. Probably of most interest to sci-fi fans and those who enjoy these odd 60s curiosities.
Night Caller from Outer Space Quotes
There are no approved quotes yet for this movie.