Nijushi no Hitomi (Twenty-Four Eyes)
(1999)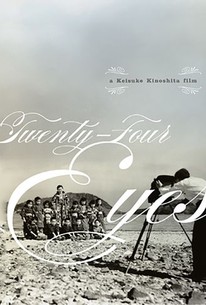 Nijushi no Hitomi (Twenty-Four Eyes) Photos
Movie Info
This gentle, sensitive Japanese drama features Hideko Takamine as a schoolteacher who begins her long career in 1927. The film follows the woman's progress through World War II and also traces the individual destinies of her first 12 pupils. The emphasis is on the maintenance of traditional Japanese values in the face of an increasingly militaristic government and how the effort to remain loyal to those values affects the teacher, her husband, and her students. As everyone grows older, ideals are shattered and compromised, and beauty is subjugated to ugliness. The film closes with an emotional reunion scene that evokes memories of similarly structured Hollywood historical dramas. Filmed in 1954, 24 Eyes was not released outside of Japan until 1957. Its U.S. premiere occurred in 1960; its television debut took place 14 years later on PBS. ~ Hal Erickson, Rovi
Critic Reviews for Nijushi no Hitomi (Twenty-Four Eyes)
Audience Reviews for Nijushi no Hitomi (Twenty-Four Eyes)
"Twenty-four Eyes" starts innocently enough in a poor fishing village in Japan in 1928 where twelve 6-year olds are set to attend school for the first time. Somewhat appropriately, they are getting a new teacher in the person of Miss Oishi(Hideko Takamine). What is not expected is her arrival, riding a bicycle and wearing western clothes, creating quite a stir. However, she did not mean to as her 10-mile commute is born of necessity which requires a bicycle which she is still paying off and her suit is made from her mother's(Shizue Natsukawa) kimono. Five years later, the children will move on to the middle school from the simple schoolhouse but by then Japan is making its inexorable slide towards World War II. Even the promise of an education and a caring teacher can do little to alter their destiny that is further hampered by their economic status. All of which combines to make "Twenty-four Eyes" so heartbreaking. (Originally reviewed in the blog section on July 4, 2009.)
This movie is one of Japan's favorites, and it isn't hard to understand why. It focuses on the hardworking community on Shodo Island in the Inland Sea of Japan. The movie spans a 20 year period, which covers the great depression and the Pacific War; and the hardships the ordinary Japanese citizens have to endure because of it. The main character is the young teacher Miss Oishi, and her love and devotion to her twelve young pupils. Miss Oishi is critical, and her liberal ideas make the principal of the school where she works a little nervous. To quote Joan Mellen (a writer of several books about Japanese film): "Twenty-four Eyes, Keisuke Kinoshita's 1954 masterpiece, and his greatest succes, manages to be a three-handkerchief tear-inducing film and, simultaneously, an exquisite work of art free of the taint of sentimentality."
One of Japans most underated yet classic gems. Wonderfully scripted and paced it is a fil with a lot of heart and low on sentimental rubbish. The relationships between the children and teacher grow in front of our eyes as we too connect with the characters. The film is a shy one, never attempting to shock or hammer home its themes, it's simply a gentle tale of youth and friendship.
Luke Baldock
Super Reviewer
Nijushi no Hitomi (Twenty-Four Eyes) Quotes
There are no approved quotes yet for this movie.