No Turning Back
(2001)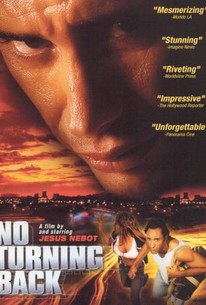 AUDIENCE SCORE
Critic Consensus: No consensus yet.
Movie Info
After fate conspires to make a man into an outlaw, he struggles to protect his child, the only thing he has left in life, in this drama. Pablo Hernandez (Jesus Nebot) was a professor of literature in Honduras when a hurricane descended on his city and wiped away nearly everything he had. While his young daughter, Cristina (Chelsea Rendon), managed to survive the disaster, his wife, his home, and his school were all destroyed. With nowhere to go, Pablo smuggles himself and Cristina into the United States, where he is able to find work as an undocumented laborer. But Pablo's bad luck comes back with a vengeance when, after borrowing his boss' truck, he accidentally runs into a child playing in the street; Pablo flees the scene of the crime, and after collecting his daughter, tries to stay one step ahead of police detective Bryan (Vernee Watson-Johnson), who has been assigned to bring the driver to justice. Needing to flee the country, Pablo finds a benefactor in Soid (Lindsay Price), a renegade documentary filmmaker who offers to give him and his daughter a lift to Mexico. However, Soid's help comes with a price -- she wants to make a film about Pablo's flight from the law, and she's eager to milk the incident for as much publicity as possible. Leading man Jesus Nebot also wrote and directed the film in collaboration with Julia Montejo.
Critic Reviews for No Turning Back
Audience Reviews for No Turning Back
½
Not a Bad film, Found it to be an interesting story about a Immigrate from Honduras who while driving his bosses truck hits a little girl on a bicycle and leaves the scene because he has no license. So starts the story of him on the run with his daughter. Vernee Watson-Johnson does a great job playing the hard ass black female detective with a chip on her shoulder and a point to prove. Don't expect a happy ending cause the Shi* cloud follows Pablo right to the bitter end. Its worth the watch and also worth 3 1/2 stars
Bruce Bruce
Super Reviewer
½
The filmmakers simply don't possess the skills to bring off a drama that can support serious themes, thus trivializing the very concerns they are trying to bring attention to.
Lee Mayo
½
[font=Arial Black][img]http://us.movies1.yimg.com/movies.yahoo.com/images/hv/photo/movie_pix/innovation/no_turning_back/_group_photos/chelsea_rendon1.jpg[/img][/font] [font=Arial Black]Plot: This is the story of an illegal Honduran immigrant living in the U.S., Pablo Fernandez (Nebot), working on a tomato farm, who gets in trouble when he accidentally hits a girl with his employer's truck. Deciding to try to escape the law, Pablo goes on the run with his young daughter, Christina (Rendon), but as the title says there is "no turning back." As he flees, his experience is recorded in print and on video by a mysterious "guerrilla journalist" (Price), who also helps him hide from his pursuers. [/font] [font=Arial Black][/font] [font=Arial Black]Review: No Turning Back is an independent movie dat wasn't really too much fun to watch. The story is original but the writing was horrible and the direction to the movie wasn't good at all. The acting was the worst, it was really annoying me thru out the whole movie, maybe it was the script dat should take most of the blame, it was bad. The dialogue was soooo cheesy, it was unintentionally funny. The chase scene where Pablo (Jesus Nebot) is being chase by a cop, whose on bike is probably the worst chase scene in a movie ever, the cop falls off his bike then he starts chasing him on foot goin like a top speed of 10MPH, dat was so unintentionally funny, they were going slow-mo without the slow-mo effect. I think this movie in the hands of a good writer and director, it would be a really great movie. Jesus Nebot, stars and co-directs this film, and i guess he did his best in both departments, but it wasn't good enuff, obviously. It's an original and great issue but the bad writing and acting really kill this movie. The movie has some touching moments, alittle overly dramatic and cheesy and the end was pretty good too. I wouldn't recommend seeing this.[/font]
Sammy Ruiz
No Turning Back Quotes
There are no approved quotes yet for this movie.
Discussion Forum
Discuss No Turning Back on our Movie forum!