No Way to Treat a Lady
(1968)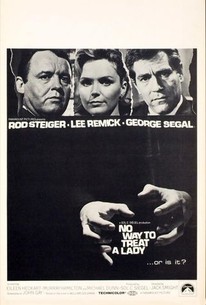 No Way to Treat a Lady Photos
Movie Info
John Gay adapted William Goldman's novel for this black comedy about a New York police detective who is trying to catch a serial killer that preys on women. Rod Steiger has a field day as the murderer, a master of disguise (appearing as an Irish priest, a German plumber, a gay hairdresser, a woman) who delights in telephoning and tormenting the cop who's out to nab him.
Rating:
NR
Genre:
, , ,
Directed By:
Written By:
In Theaters:
On DVD:
Runtime:
Studio:
Paramount Pictures
Critic Reviews for No Way to Treat a Lady
Audience Reviews for No Way to Treat a Lady
½
Brilliance by Rod Stieger makes No Way To Treat a Lady a must see for fans of black and white suspense. Steiger plays his role to perfection but Even without his presence the film flows smoothly and captivates the viewer.
Jonathan Porras
Sylvia Poppie: Is that one of your own wigs you're wearing? Christopher Gill: You don't look like Cleopatra, honey. Belle Poppie: Don't raise your voice! Sylvia Poppie: You homo. Christopher Gill: Doesn't mean you're a bad person.
Lisa ?
½
Rod Steiger should have an Oscar for his multi-talented portrayl of a serial killer. This film sucks you in as a comedy then kills you as a murder drama. See it. [img]http://upload.wikimedia.org/wikipedia/en/thumb/8/8b/NoWayToTreatALady-Poster.jpg/220px-NoWayToTreatALady-Poster.jpg[/img] SEE the entire film here: http://www.youtube.com/watch?v=OeOQNKZ_SVw Rod Steiger stars as Christopher Gill, a serial killer who is fixated on his late mother, who had been an actress. Gill preys on older women who remind him of her. [img]http://t2.gstatic.com/images?q=tbn:ANd9GcRLZnJ468oO9S2XpncBgUZR6fiOq-PKArhPzqjAfJVQKeoZ48a5[/img] Rod Steiger is a gay hairdresser shown here gaining entrance to his victims appartment A Broadway theater director and costumer, he adopts various disguises, e.g. priest, policeman, plumber, hairdresser, etc., to put his victims at ease (and also avoid being identified) before strangling them and painting a pair of lips on their foreheads with garish red lipstick. [img]http://t3.gstatic.com/images?q=tbn:ANd9GcT7jZhPoD0CeMyqzZOm4rLP3uQQjS7d1I-HU_YiNp39NcUfUp98[/img] Directed by Jack Smight Produced by Sol C. Siegel Written by John Gay William Goldman [img]http://t3.gstatic.com/images?q=tbn:ANd9GcSTIFfkouqrnc3iranyLVQbmkfxtk5Hx_lXIm4qF191InaQW5dI[/img] George Segal (Who's Afraid of Virginia Wolf) as the detective who lives with his mother Starring Rod Steiger Lee Remick George Segal Eileen Heckart Music by Andrew Belling Stanley Myers Cinematography Jack Priestley Editing by Archie Marshek Distributed by Paramount Pictures Release date(s) March 20, 1968 Running time 108 minutes Country United States Language English Box office $3,100,000 [img]http://t3.gstatic.com/images?q=tbn:ANd9GcSOX3W_ALR8OfuIT38FVfJEsIKWqSibT0j7Cg02tIbzjc8yd7hT[/img]
monsieur rick
No Way to Treat a Lady Quotes
| | |
| --- | --- |
| Christopher Gill: | " That doesn't make me a bad person ." |
| Christopher Gill: | That doesn't make me a bad person. |