Our Day Will Come
(2013)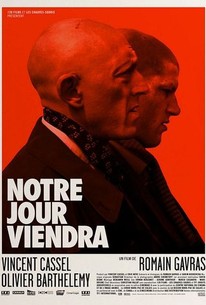 Movie Info
Two bitter misfits decide to take out their rage on their world in this offbeat drama. Remy (Olivier Barthelemy) is an angry, maladjusted teenager who seems convinced the world looks down on him because he has red hair. Remy has no friends and a poor relationship with his family, and after a disagreement with his mother (Mathilde Braure) escalates into violence, he runs away from home. Remy is seeing a psychiatrist, Patrick (Vincent Cassel), who is also red-headed and angry about it, and when Patrick learns that Remy has impulsively left home, he decides to run off with him, proposing they to go to Ireland, where redheads are common. As Remy and Patrick hit the road, they set off on a crime spree, leaving a trail of verbal and physical violence in their wake as they take out their rage on nearly anyone who isn't like them. However, once they get to Ireland, things change very little as Patrick and Remy find they're not as welcome as they imagined. Notre Jour Viendra (aka Our Day Will Come) was the first feature film from director Romain Gavras, son of noted filmmaker Costa-Gavras. ~ Mark Deming, Rovi
Critic Reviews for Our Day Will Come
Audience Reviews for Our Day Will Come
½
Tired of being the butt of society's jokes, two redheads set off on a nihilistic rampage across the grim landscape of Northern France. They plan to catch the ferry to Ireland where they believe everyone is of ginger persuasion. As a resident of Ireland I can tell you they'd be seriously disappointed. Vincent Cassell is fantastic as the elder of the pair and the film's first half is thoroughly gripping. As is so often the case with this type of tale it meanders into violence in the final act.
The Movie Waffler
Super Reviewer
Our Day Will Come Quotes
There are no approved quotes yet for this movie.