Number Seventeen (Number 17)
(1932)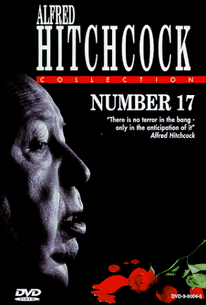 Number Seventeen (Number 17) Photos
Movie Info
John Stuart is blown into a derelict building to find cockney Leon M. Lion crashed for the night; a corpse; a blonde looking for her father; a couple, one of whom is mute, wanting to view the property at midnight - plus a handcuffed couple hanging from a crumbling staircase and a bus and train race to the Channel ferry.
Critic Reviews for Number Seventeen (Number 17)
Audience Reviews for Number Seventeen (Number 17)
This was the worst Hitckcock movie I'd ever seen. The movie's quality is horrible, it's slow and boring, and the plot is really thin. I don't recommend watching this movie.
"Coo blimey, if it ain't my lucky day! I'm a murderer, I'm a liar and now I'm a b-bathroom fitting!" Number Seventeen is criminally under-rated! Point out the pothole sized plot-holes, the toy-town special effects, ropey acting and wobbly camera and you are just missing the point (and I even wonder if cinema is for you?). Anyway, this IS 1932, so surely a moving camera, as opposed to the usual rigid static shots, is commendable and who wouldn't wobble carrying the equivalent of a small bungalow?? Either way, the 'clumsiness' only adds to the gleeful mayhem at play. However, 17 is meant as a comic parody of the spy story (but with a large dose of surreal craziness and the gleeful cackle of 'The Old Dark House' and 'The Cat and the Canary' thrown in for good measure). So it's not really meant to be taken as seriously as may be expected. It's also a formula that Hitch would make his own (the spy story as a send up of itself) and is now so familiar as a genre that it feels 'straight' yet is often screamingly camp (Bond anyone?). It is quite a surreal and odd little film for much of it's (short) length - for the first half of the film people seem to keep appearing and then disappearing again at such an alarming rate it's hard to keep up with who's who, but that's part of it's charm (even in the last few minutes, a lovely twist means still more identities are being revealed!). And, at just over an hour, it still manages to cram in many of the elements we have come to recognise as Hitchcockian: staircases (lots of them!), the mysterious 'bad' girl (who has to redeem herself), handcuffs and bondage, trains and chases on trains, bathrooms, moral ambiguity, people not being what they seem (villains? Heroes? erm... your guess is as good as mine) and probably the first very discernible macguffin (the necklace). When all is said and done, why the Hell should we care about the plot flaws and ropey acting when everyone is having such a lark - including the portly prodigy himself - quite literally like a big kid playing with his train set! I really do enjoy 17 more than the generally more revered Murder and Blackmail (so the acting in those films isn't ropey??). It's certainly no masterpiece but it's a lot of fun and nowhere near the dud it's always been dismissed as. A forgotten gem.
William Sleet
Super Reviewer
I wouldn't call this a complete disaster, but I guess even the masters have to start somewhere...Hitchcock totally lost me on this one. Number 17 is full of atmosphere, has a neat setting, and bubbles with black-and-white charm, but the plot doesn't make any sense at all. I had trouble hearing the characters because of the sound, which isn't really Hitchcock's fault, but it made the storyline even harder to follow. And the acting is ass. This was obviously just a fun little bauble for Hitchcock to kick around. He plays around a lot with light, shadow and sound in the movie; clearly honing his grasp of the atmospheric. I think I read somewhere that he made this movie just to fund Rich and Strange, and I believe it. Valuable only as a curio for die-hard Hitchcock fans.
Drew Smith
Super Reviewer
Number Seventeen (Number 17) Quotes
There are no approved quotes yet for this movie.