Ocean Waves (Umi ga kikoeru)
(2016)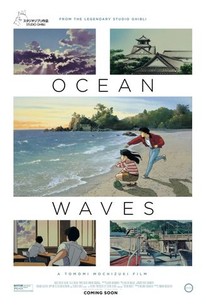 Ocean Waves (Umi ga kikoeru) Videos
Ocean Waves (Umi ga kikoeru) Photos
Movie Info
Rarely seen outside of Japan, OCEAN WAVES is a subtle, poignant and wonderfully detailed story of adolescence and teenage isolation. Taku and his best friend Yutaka are headed back to school for what looks like another uneventful year. But they soon find their friendship tested by the arrival of Rikako, a beautiful new transfer student from Tokyo whose attitude vacillates wildly from flirty and flippant to melancholic. When Taku joins Rikako on a trip to Tokyo, the school erupts with rumors, and the three friends are forced to come to terms with their changing relationships.
News & Interviews for Ocean Waves (Umi ga kikoeru)
Critic Reviews for Ocean Waves (Umi ga kikoeru)
Audience Reviews for Ocean Waves (Umi ga kikoeru)
A delightful little film from Studio Ghibli. On the surface it isn't about much, just a boy who reminisces about the one that got away. In a brief 70 minutes we follow the lives of these Japanese high school students, and are completely engrossed with the world and politics of high school. There's a quiet sensibility that many people will recognise from some of Ghibli's other films such as Only Yesterday. Lovely animation brings Japan to life in a way that even live-action films sometimes fail to do. With delicate music and vocal performances this is a wonderful little film that I will probably revisit again soon.
Luke Baldock
Super Reviewer
½
Studio Ghibli's realistic reflection of adolescent love, shown with smooth flashbacks and great illustrations. The film has also able to put an uncertain light of enigma to the main female character: Rikako. It is not one of those Ghibli films that stirs naive imaginations with colorful images, but it portrays a knowing life, vulnerable of heartbreak and happiness, against a serene backdrop of Kochi, Japan. I do not know why I did not like this TV film that much, maybe because along its conceived mature tone, the makers has also able to insert some teenage cuteness, which I'm not fond of.
Ivan Descartin
Super Reviewer
½
This is a really odd film as almost nothing happens. It's simply small-town boy meets awkward city girl, and yet it's totally captivating and reminded me of John Hughes' work in tone. If you're looking for massive robots knocking the crap out of other massive robots, this is not the film for you. Nor is it the next Ghost In The Machine. But, I do recommend it as it's yet another quality, character-led piece of work from Ghibli.
Marcus Woolcott
Super Reviewer
Ocean Waves (Umi ga kikoeru) Quotes
There are no approved quotes yet for this movie.