Office Christmas Party
(2016)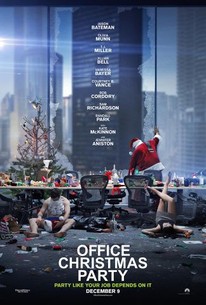 TOMATOMETER
AUDIENCE SCORE
Critic Consensus: Its cast of gifted comics is good for a handful of laughs, but Office Christmas Party's overstuffed plot ultimately proves roughly as disappointing as its clichéd gags and forced sentimentality.
Office Christmas Party Videos
Office Christmas Party Photos
Movie Info
In OFFICE CHRISTMAS PARTY, when the CEO (Jennifer Aniston) tries to close her hard-partying brother's branch, he (T.J. Miller) and his Chief Technical Officer (Jason Bateman) must rally their co-workers and host an epic office Christmas party in an effort to impress a potential client and close a sale that will save their jobs. The latest comedy from directors Josh Gordon and Will Speck (BLADES OF GLORY) co-stars Kate McKinnon, Olivia Munn, Jillian Bell, Rob Corddry, Vanessa Bayer, Randall Park, Sam Richardson, Jamie Chung, and Courtney B. Vance in the funniest movie of the holiday season.
News & Interviews for Office Christmas Party
Critic Reviews for Office Christmas Party
Audience Reviews for Office Christmas Party
½
A mindless comedy that offers the same as any Christmas comedy movie. it's fun just leave it at that!
Film Crazy
Super Reviewer
There is a very wide range between what makes a great comedy and what could make a terrible comedy. In my opinion, there are more mediocre comedies than anything, due to the fact that most films hit with a lot of jokes, but just as quickly fall flat. Office Christmas Party sadly falls right in line with those, but also manages to have quite a few laughs throughout. This is as generic as you can possibly get in terms of story, but the laughs are very present here and does warrant a viewing in the end. I am not going to go all out and praise this as one of the funniest movies I have seen in a while, because I would be lying, but it does have its share of laugh-out-loud gags. Here is my review of Office Christmas Party. Clay (T.J. Miller) and Carol (Jennifer Aniston) have lost their father. His company is passed onto them. She is thinning the branches out, threatening to close her brother's branch if he doesn't smarten it up. Throwing a company Christmas party in order to seal a new deal, hilarity ensues and Christmas miracles/cheer fills the air. It really is as simple as that. This is a film to kick back, crack open a beer, and just enjoy some nonsensical entertainment. Is it a bad film? Not by any means, but it really isn't that great either. The odd thing about this film is that I found it very funny, but I do not find myself remembering anything I laughed at in the years to come. I have to commend this film for having very well-timed jokes, having many people laugh throughout the screening I was in, as well as myself, but looking back on the film, there is nothing I can remember that would be worth quoting to someone that would get them into the theatre. That is this films biggest issue. There is nothing wrong with a simple generic tale told well, but the comedy needs to hit. For me, the comedy hit almost all the time, but I immediately forgot about each joke when the film progressed. These characters are developed enough to care about the conclusion of this film, but by the end of the film I felt like each of their characteristics were cranked up to a million. Although Christmas serves a purpose for the story here, I truly believe that this same premise could have worked as a regular party film. If this film was called Office Party instead of Office Christmas Party it wouldn't have sold as many tickets. The writers of this film cleverly incorporated Christmas into the mix, making for a film that will gains laughs around the holidays. The funny thing is that I believe this film could have worked both as a Christmas movie and as a regular party film, but the bigger Christmas released this year in Bad Santa 2 was much less funnier. For that, I commend Office Christmas Party. This is a decent throwaway film. In the end, Office Christmas Party is the type of movie that you put on with friends around the holidays when you can't find anything else to watch. You will laugh quite a few times throughout and then completely forget about it until the next time you happen to catch it. It is a film that has funnier side characters than the main cast and the hijynx they get into were some of the hi-lights of the film. For what it is, Office Christmas Party has a serviceable screenplay, solid direction, and a very likeable cast. There is nothing about this film that should turn anyone away, but it just plays it too safe. There are many laughs to be had, but nothing too memorable. Overall, Office Christmas Party is a forgettable good time that I recommend if you are not looking to be moved at the cinema this holiday season. It is a very easy watch.
What is there to say about a movie that knows exactly what it is and executes itself in competent fashion? Turns out, not too much really-especially when one is talking specifically about something as frivolous as Office Christmas Party. After watching this hour and forty-five minute comedy my friend and co-host at Initial Reaction summed up what we'd just experienced perfectly. Describing the "here for a good time" flick that actually ends up overstaying its welcome as a raunchier version of one of those holiday themed, multi-plotted, department store advertisements as directed by the late Garry Marshall, Office Christmas Party piles on the recognizable names and faces (Hey! There's Jennifer Aniston again!), juggles a handful of plotlines, and ultimately comes off as trying too hard to have some kind of genuine heart when we all know the only reason it actually exists is to cash in on certain weekends of the year when viewers seek reminders for how they should/would like to feel around the holidays. This wouldn't be so bad considering Office Christmas Party has a more than capable cast and isn't nearly as hokey as those aforementioned Marshall pictures, but the film ultimately tries to do too much with very little when it would have been fine had it simply allowed its talented comedic ensemble to feed off one another. While Marshall's films more or less turned a holiday of its choosing into a combination of Crash and any Hallmark movie ever Office Christmas Party at least has a driving plot that keeps the focus on only the characters involved in the central narrative and has each of them chasing and contributing to the same goal. There are no extraneous stories that have to strain to connect all the random characters together, but that doesn't mean every subplot should have been kept either. It is in its inability to restrain from both following one too many superfluous factors as well as devolving into something it clearly had no intention of being until it realized the credits had to roll at some point that Office Christmas Party suffers, but when it is having fun, making jokes, and letting the comedic talent it has enlisted to roam freely it's a consistently hilarious time that delivers on what its promotional campaign promised. read the whole review at www.reviewsfromabed.com
Philip Price
Super Reviewer
Office Christmas Party Quotes
There are no approved quotes yet for this movie.
Discussion Forum
Discuss Office Christmas Party on our Movie forum!