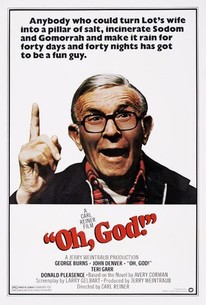 Oh, God!
1977, Comedy, 1h 37m
27 Reviews
5,000+ Ratings
What to know
critics consensus
Oh, God!'s Biblical playfulness makes for more cute farce than divine comedy, but George Burns' sly performance as the Almighty gives this high concept gravitas. Read critic reviews
Where to watch
Rent/buy
Rent/buy
Rent/buy
Rate And Review
Movie Info
Jerry Landers (John Denver), an assistant manager in a supermarket, receives a visit from God (George Burns), who appears in the form of an old man. Reluctant at first, Jerry agrees to spread the word about his visits from the almighty creator of heaven and earth. However, Jerry's wife, Bobbie (Teri Garr), is skeptical, and theologians think Jerry's God is a fake. As Jerry continues to receive visits from God, religious authorities take action and demand that he prove his story.
News & Interviews for Oh, God!
Audience Reviews for Oh, God!
You certainly don't need to be a believer to enjoy this charming film; I'm an atheist and always have. John Denver gives a nice performance as the forthright and altruistic groceryman who is called upon by God to deliver His message, and an 81-year-old George Burns is perfect in the role of the Almighty. The film delivers what I think is appropriate criticism of organized religion, distinguishing it from faith, and Paul Sorvino is great (though a little over-the-top) as a southern televangelist. I also liked the Deist position it takes, that God created the world but it's up to mankind to make of it what it will, and that kindness and brotherhood are more important than dogma. The film doesn't try to answer all of the unanswerable questions, but it does take a pretty good crack at a lot of the big ones (Q: 'Why does God allow all the suffering in the world', A: 'I don't permit it, you do. Free will: all the choices are yours.' Q: 'Was Jesus Christ your son?' A: 'Jesus was my son. Buddha was my son. Muhammad, Moses, you, the man who said there was no room at the inn was my son.' Q: 'Which of the world's religions is closest to the divine truth?' A: 'The divine truth is not in a building or a book or a story. Put down the heart is the temple where all truth resides.') This is not a fire and brimstone God, or one bent on vengeance, hell, and eternal agony for sinners and nonbelievers; this is an informal, simple, and gentle God. How refreshing, and how enlightened.

A very funny and meaningful film, after laughing you start to think. I really liked this movie, and I highly recommend it, the story is great, and the actors are too.

With as little screen time that George Burns had and the overabundance of John Denver, this was still a pretty likable flick. George Burns really brought a lot of charm and really is one of the few people who could really portray God and make it fun, but not too blasphemous. For the first half of the movie, I really couldn't stand all the whining that John Denver's character was doing, but in the second half he wasn't so bad. Cute little movie and a decent watch. Teri Garr really reminded me of Sarah Michelle Gellar at times. She did a great job as well. Lots of recognizable faces and only two lines from Donald Pleasance. That was a surprise.

A classic movie with George Burns as God, and John Denver (bless his soul) as the chosen messenger for God's message. It's an enjoyable little movie. It sort of reminds me as "Miracle on 34th Street".
See Details