Onna ga kaidan wo agaru toki (When a Woman Ascends the Stairs)
(1963)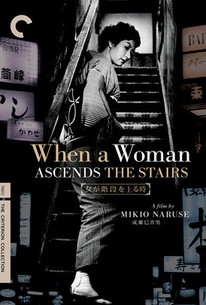 Movie Info
Filmmaker Mikio Naruse takes a characteristic dour look at life in When A Woman Ascends the Stairs. The central character is a barmaid, who works day and night to avoid being thrown out into the street. She knows that, if she loses her job, the only profession open to her is the World's Oldest. But when the worst happens, the barmaid learns to live with herself while compromising her values. The film's original title was Onna Ga Kaidan O Agaru Toki. ~ Hal Erickson, Rovi
Critic Reviews for Onna ga kaidan wo agaru toki (When a Woman Ascends the Stairs)
Audience Reviews for Onna ga kaidan wo agaru toki (When a Woman Ascends the Stairs)
If you have seen it tell me you didn't have tears coming down throw this heartbraking film??? This classic is surely one of my top 30 and it's nothing short of neat and near perfect! I liked the way Hideko Takamine acts out her lines with such power and emotion. The style of our director is their with the way she films it, and she tends to make more use of shadows for more reason one can see while watching. I liked every aspect of production and my final suggestion is SEE IT! (I may make a bigger review some day)
½
this is my first experience of naruse and in fact his only film that's widely available in the u.s. this is a shame as i found it to be a masterpiece on the level of ozu or mizoguchi. it's interesting so many of their films revolve around female characters. meanwhile you'd be hard-pressed to find a single decent female character in most of kurosawa's work
Stella Dallas
Super Reviewer
a patient, emotional, and highly effective portrayal of the struggle of a virtuous woman in a not so virtuous world. the film features some of the great and familiar actors from this era of japanese cinema and just about every aspect of the film was performed well. the only real drawback was that the storyline with the main characters brother, a storyline i found myself very interested in, was the only storyline in the film not developed well. the main plot however was developed perfectly and the film gets its point across with beauty. overall an excellent film for any fan of good female leads or japanese cinema.
Onna ga kaidan wo agaru toki (When a Woman Ascends the Stairs) Quotes
There are no approved quotes yet for this movie.