Opposite Day
(2008)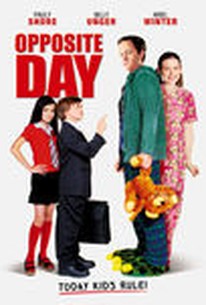 AUDIENCE SCORE
Critic Consensus: No consensus yet.
Movie Info
A simple wish wrecks havoc on a typical family in this role-reversal comedy starring Pauly Shore, and continuing in the tradition as such beloved comedies as Freaky Friday, Vice Versa, and 18 Again!. When an overburdened couple passes their nine year old son Sammy and eight year old daughter Carla off to the children's grandparents for a weekend vacation into the mountains, Sammy makes a wish for kids to be in charge of the world instead of adults. But Sammy never suspected that his wish would ever be granted, and when the little ones realize how much work it takes to be a grown-up, they quickly begin searching for a way to get things back to normal. ~ Jason Buchanan, Rovi
Critic Reviews for Opposite Day
Audience Reviews for Opposite Day
Opposite day is about a boy who wishes that kids can take on the role of their parents, and kids can take on the role of their kids. And of course...it happens. The movie offers fantastic performances, a clever script, hilarious quotes, stunning production design, a moving soundtrack, and very touching moments. Actually everything that was just said, is the complete opposite! What was truly meant to be said was that it offers bad performances, a script that probably took 10 minutes to write, lame quotes, OK production design, an overly childly soundtrack, and very frustrating moments. The only joke in which this film offers is the thought of parents acting like kids, and kids acting like parents. Some may laugh at this, but once it keeps going on and on the joke will be over! It's like hearing the "Why did the chicken cross the road?" joke over, and over, and over again! The only people who might enjoy this movie is probably very young children. But this is nothing that they should be wasting their time on, after all there are better movies in this world. Stay away from this one!
Emmanuel Torres
Super Reviewer
I can't believe I actually sat through this piece of crap.
Dannielle Albert
Super Reviewer
Opposite Day Quotes
There are no approved quotes yet for this movie.