Ornette: Made in America
(2012)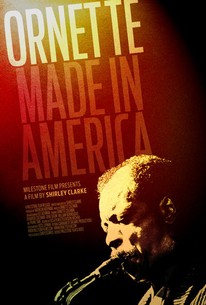 Ornette: Made in America Photos
Movie Info
Few intersections are as potentially thrilling and explosive as the meeting of great artists from different disciplines. When Oscar (R)-winning filmmaker (and former dancer) Shirley Clarke trained her cameras and creativity on jazz great Ornette Coleman, the result was a documentary portrait like no other - kaleidoscopic, mesmerizing and well, cosmic. This meeting of extraordinary New York talents originated in Forth Worth in the early 1980s. Producer Kathelin Hoffman was preparing to open Caravan of Dreams, an innovative new cultural center, and invited native son Coleman to write a jazz piece to perform with his band Prime Time for the opening. Hoffman then set out to find a director to document the performance. Speaking with Coleman, she learned that Clarke had started a film about him back in the 1960s. So Hoffman visited the filmmaker at New York's Chelsea Hotel and the trio embarked on a three-year project that would stretch the conventions of the documentary genre in almost every way possible. The team confronted a number of technical challenges that provoked innovation. In order to end up with a 35mm projection print, Clarke and Hoffman had to invent editing techniques to handle footage shot in a wide variety of film and video media. Since she had filmed the original footage, Clarke had become a leading innovator in experimental and documentary video production. The pair decided to try out a new Super 16 film stock and hired young cinematographer Ed Lachman, based on his brilliant Super 16 work on Peter Greenaway's The Draughtsman's Contract. The structure of the documentary required creativity and collaboration. While Coleman and Hoffman were focused on making a film about the creative process, Clarke wanted to continue the film she had begun years earlier about the musician and his relationship with his talented son, Denardo. The team also hoped the film could tell the story of a poor black kid returning home as a famed composer. And to make things even more challenging, Coleman decided to create a nightclub performance, a symphony, and a chamber music piece to celebrate his Fort Worth homecoming. The documentary uses the score of Coleman's symphony "Skies of America" as an underlying script and, like his avant-garde jazz, exploits non-linear means of storytelling to bring everything together. Dazzling sound and visual editing weave together archival shots from 16mm and video; dream and flashback sequences; animation; the theories of Buckminster Fuller; North African influences on 1960s luminaries (including William Burroughs, Tennessee Williams, Paul Bowles and Allen Ginsberg); a music video; and Coleman's musings on the intellectual and experiential basis for Southern jazz and blues. And all are syncopated to Coleman's "harmolodic" score, which music critic Thom Jurek described as "dangerous and rewarding music." ORNETTE: MADE IN AMERICA opened in 1986 to a wave of enthusiastic reviews. David Sterritt in the Christian Science Monitor called it "a quirky cinematic spree that unfolds the saga of Coleman's career while visually evoking the boundless 'free jazz' flights of his unpredictable music." Don Snowden of the the Los Angeles Times wrote: "Clarke's use of rapid-fire editing, the juxtaposition of images and its non-linear story line gives the film a far more sweeping scope than a standard portrait of an artist." But sadly, Clarke soon afterwards developed Alzheimer's and in the years following her death in 1997, the documentary was rarely shown. In 2011, Milestone and producer Kathelin Hoffman Gray brought the original elements to the UCLA Film & Television Archive to oversee a restoration of ORNETTE: MADE IN AMERICA. With the active participation of Hoffman Gray, cinematographer Lachman and Milestone's VP Dennis Doros, UCLA restorationist Ross Lipman (Killer of Sheep, The Exiles, Wanda) painstakingly color corrected each scene of the collage-like film. Then Lipman and Audio Mechanic's John Polito restored the soundtrack to insure that the sound quality matched the film's splendor.
Critic Reviews for Ornette: Made in America
Audience Reviews for Ornette: Made in America
With the subject of this documentary being the great improvisatory jazz musician Ornette Coleman, filmmaker Shirley Clarke took a suitably free associative approach that is framed by a symphony performance by Coleman in his old hometown of Fort Worth, Tx, completing the circle with his own son on drums. And in this city, past, present and future collide, starting with a wild west shootout demonstration on the street(at first, I was content to file this under only in Texas...or maybe Wyoming?), that allows Coleman to coexist with his younger selves(Demon Marshall & Eugene Tatum) who ran away from home in the slums across the train tracks and in the shadow of the glittering skyscrapers of downtown while the present day Coleman threatens to dematerialize at times.(Unlike many documentaries that could be considered fantasy, this is about the only one that could also be considered science fiction with 80's graphics that I am rather nostalgic about.) It is not only musicians like Charlie Parker that influenced him but also the theorist and futurist Buckminster Fuller who sounds like an interesting dude and of course William Burroughs who also does a reading in the present here. As for the future, Coleman demonstrates a then novel satellite hookup between Lower Manhattan and Harlem and also was currently working for NASA in order to communicate how happening a species human beings can be to any extraterrestrials out there.
Ornette: Made in America Quotes
There are no approved quotes yet for this movie.