Other People
(2016)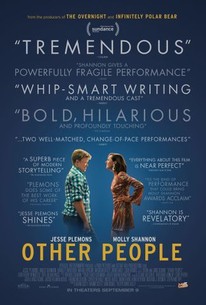 TOMATOMETER
AUDIENCE SCORE
Critic Consensus: Other People resists easy melodrama, rewarding viewers with a smart, subtle look at family dynamics with a talented cast and a finely calibrated blend of funny and serious moments.
Movie Info
A struggling comedy writer in New York City (Jesse Plemons) returns home to Sacramento to care for his dying mother (Molly Shannon) in this affecting family drama from Saturday Night Live writer Chris Kelly, marking his directorial debut. Other People premiered at the 2016 Sundance Film Festival.
News & Interviews for Other People
Critic Reviews for Other People
Audience Reviews for Other People
An alright tale that sees Jesse Plemons take on a more serious role from Friday Night Lights. Molly Shannon is great as well. There just isn't much else there.
John Ballantine
Super Reviewer
½
Cancer, much like rape, is a very sensitive topic to tackle in films. It's difficult in both dramas and comedies. Its use in drama can lead to some giving in to their worst tendencies. Scenes become manipulative and melodramatic scenes that only exploit an already horrible disease without any actual insight. Comedies have it slightly less hard, but not by much. Where do you find the humor in this awful disease? It's not impossible to achieve, but it is very difficult. I think the best example of using cancer in a dramedy would have to be 50/50, a phenomenal movie. One that finds the humor and insight in cancer to create, really, somewhat of an uplifting film without even trying. Other People, obviously, doesn't come close to that level, but I still believe that it's a damn good movie that finds some insight as to what it is like being a family, whose matriarch's health is slowly deteriorating as a result of the cancer. While the movie is, obviously, about Joanne's cancer and how that affects her family, it's really more like a 'year in the life' of David, Joanne's son, a struggling comedy writer. David deals with his mother's illness and the family dynamics of having a father that doesn't accept his homosexual lifestyle and sisters that David doesn't really spend a lot of time with, even though they're going through exactly the same thing as he is. David deals with the fact that his career isn't going the way he wanted it, he broke up with his boyfriend. So, to avoid worrying his mother, he puts up this act that he's still with his boyfriend and his career is going fine, so she doesn't worry about him on top of having to deal with her health issues. I believe the movie avoids a lot of melodramatic elements simply because Joanne isn't featured in every second of every scene. It deals more with how David tries to cope with the fact that his mother is dying in spite of the fact that, he feels, he's actually losing two parents, since he feels he can't count on his father after Joanne dies. The film very much is about the dynamic of the entire family as they adjust to Joanne's worsening health, I thought that was a better way to tell this story than just focusing on David and Joanne. While I would have liked to have seen more scenes between Joanne and David, the ones that were there were poignant and effective. There's some interesting themes in the film. There's some spiritualism here, not religious, just spiritual. There's this scene where David has a conversation with his best friend, whose mother also died from cancer. David tells his friend that he hasn't gotten religious-y at all since his mother's diagnosis, so he asks his friend if he had that moment when his mother was dealing with her illness. The friend then proceeds to tell him this story about this time his mother told him that after he died, she would inhabit a birch tree. And the friend obviously knew that her mother wasn't actually in the birch tree at all, but every time he saw one, he saw her in it regardless. Just because of something as simple as her telling him that. And it's actually kind of a beautiful story, one that I didn't actually do justice to. I think it works because there's something that we all have that would remind us of the ones we love that may have passed away. And, at its core, this ends up being one of the film's main themes, with David realizing that, as much as he's gonna miss his mother when she's gone, there are a lot of things, and people (his sisters) around him that will always remind him of his mother. It sounds a little sentimental, and it is, but I think it's actually really subtly done in this movie. They don't hammer it home, which is to their credit. The acting is really strong. Jesse Plemons is really talented and Molly Shannon, despite not appearing as much as she could have, does a phenomenal job here. The rest of the cast is strong as well, but those are the two central actors the film centers on. The humor comes naturally and organically from every day situations. It's not a hilarious movie, but I don't think it was ever meant to be hilarious. The comedy gives levity to the more dramatic moments of the film. With that said, this movie isn't perfect, but I thought it was damn good. It doesn't give in to tendencies that would have made the narrative exploitative or insensitive, so that was smart of them to do. I'd recommend it if you have Netflix, though I will say it might put you in a down mood afterwards. It's not a depressing movie or anything of the sort, but it is sad. The ending is bittersweet, but beautiful at the same time.
Jesse Ortega
Super Reviewer
Jesse Plemons and Molly Shannon are brilliant in this piercingly intimate cancer drama. Instead of coaxing cheap tears from the audience, Other People instead aims to imitate real life and plumb the depths of its central characters through delicate dialogue. The entire cast is stellar and the film is quiet and even funny, however, perhaps could have had a bit more meat on its bones. It doesn't offer much that separates itself from the cancer drama pack, but its natural and affecting and should gain an Oscar nomination for Shannon. Rating: 79
Other People Quotes
There are no approved quotes yet for this movie.