Out Cold
(2001)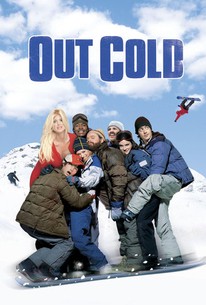 TOMATOMETER
AUDIENCE SCORE
Critic Consensus: A party movie that substitutes surfs for snow, Out Cold will leave viewers just that with its gross-out humor and sophomoric plot.
Movie Info
Snowboarding buddies Luke, Rick, Anthony and Pig Pen are living large on Alaska's Bull Mountain. Partying hard, looking for girls and doing just about anything to have a good time is what life on Bull Mountain is all about. But when town founder Papa Muntz dies, his son Ted decides to sell the mountain to slick Colorado ski mogul John Majors. Everyone is bummed by his plans to turn the boarding mountain into an espresso-and-tofu ski resort, and it's up to our heroes- along with Major's beautiful, rebellious daughters Inga and Anna -to keep Bull Mountain yuppie-free.
People Who Like this movie also like
Critic Reviews for Out Cold
Audience Reviews for Out Cold
½
Guilty pleasure that is reserved for people who don't expect a lot from the film. I had a few laughs and enjoy watching the film more than expected, it's a guilty pleasure film that has stuck with me over the years. Any low brow comedy that can throw in references to Casablanca and have a guy dream about being covered in naked women is always going to sit well in any mans books. The skiing scenes are a major highlight of the film and that soundtrack is truely incredible. The story is basically a new age take on Casablanca with toilet humour. Critics may have you thinking twice about the film but forget them and leave your mind at the door. I found this film in my video store many years ago and I have seen it so much ever since. These sites help films live outside of knob critics who are living in the past. I know a classic when I view it but I know a mindless fun flick as well and this film has that in spades. Leave your mind at the door and enjoy a dumb, very guilty pleasure film. 22-08-2017.
Brendan Nicholls
Super Reviewer
½
Out Cold is a fairly decent comedy with a few good laughs. By no means is this a great film, but for what it is, it's a pleasant time waster. If you're in the mood for a mindless comedy, Out Cold is a perfect viewing. The film is not memorable by any means, but for what it is, the film brings on a few good chuckles. The film has been compared to Casablanca on many occasions, except this film, will never attain the same legendary status as the timeless classic. Anyhow, this is an enjoyable film to watch with friends. Some of the comic delivery, but for the most part it succeeds at being a very silly, and film to watch. This isn't a memorable comedy to watch, but for the most part, it's pure mindless fun that definitely shouldn't be taken seriously. The cast are silly and fun, and there's plenty to enjoy about this film if you're in the right state of mind. Expect something funny here, but also dimwitted, and you may not be disappointed. Don't expect anything great here, you won't find it here. I very much enjoyed the film. Though very stupid, this film is lots of fun from start to finish. If you can forget how idiotic this film is, then you might enjoy it. This a film that is meant to be mindless fun, and though imperfect, it still lots of fun to watch.
½
This is such a funny movie. It's full of sick,twisted,and fantastic humor.
Out Cold Quotes
There are no approved quotes yet for this movie.