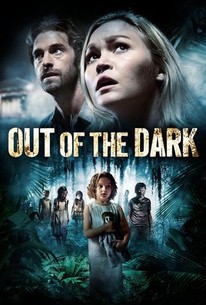 Out of the Dark
2014, Horror/Mystery & thriller, 1h 32m
21 Reviews
500+ Ratings
Where to watch
Rent/buy
Free
Rent/buy
Rate And Review
Movie Info
A family moves to Colombia to take over the operation of a manufacturing plant and learns that its new home is haunted.
News & Interviews for Out of the Dark
Audience Reviews for Out of the Dark
Some good atmosphere and decent scare, slightly, improves what ends up being a standard and generic ghost story. At least it's standard and generic and not infuriatingly awful. Part of me feels that the writing of some of the story elements are surprisingly shades of grey instead of just the cliched and unbelievable black and white. For example, the reveal of what happened doesn't seek to make a villain out of those responsible. Not that their actions were justified, because they weren't, but part of me believes that there wasn't any malice between hiding the truth of what happened to the children and not telling their parents. Of course that sounds horrible when you read it. But part of me believes that the reason they kept it quiet was because their paper mill was allowing those in the village surrounding the mill to get jobs. If the mill went out of business then it would go back to the poverty it was accustomed to and all those people would be out of a job. So that, at the very least, was interesting and it gave you something to ponder and think about for, at the most, 5 minutes. Again not saying the actions were justified but their deeds were done with the good of the greater good in mind. Of course, part of that cover-up was to keep themselves from ever facing any criminal charges, but I don't think it was the main reason, just one of them. The rest of the film, unfortunately, as the reveal comes like 15-20 minutes before the film is over, doesn't have as much thought put behind it. Let me say that the ghosts of the kids themselves were actually pretty good and I'm sure some people will find them creepy. There may not be a lot of scares in the film, but what is there is actually pretty good. There's one really bad jump scare that jumps at me, so at least it's not consisted of a series of jump scares without any thought put behind them. The writing of the characters, however, does leave a lot to be desired. Both Sarah and Paul come across as unlikable. Like they're above the entire country of Colombia. Perhaps that's a wrong assessment and it's really just the one scene. There's this scene where Hannah is taken to a hospital because of the fear she has the flu. They're told that the results of the blood tests will take 2 weeks to come out. So out comes the company doctor from Harriman, where Sarah works at and whose father owns, and he says that if they perform the blood test they'll have the results in 48 hours. Understandably, both Sarah and Paul are worried and want to do what's best for their daughter. So Paul's response to this is that they should go to a real hospital. Umm, what??? It sort of plays into every stereotypical fear someone has when visiting another country, particularly in South America or Africa. Don't drink the water, don't trust the cops, the hospitals are third-rate, etc, etc. Apparently forgetting that there are places in Colombia that have extreme wealth which, probably, means that there are some top-notch medical schools. Perhaps saying that Sarah was unlikable would be wrong, as it was Paul that made this statement. It just felt so out of place and unnecessary that I felt it had to be pointed out. Regardless of that, it's not like I thought Paul and Sarah were any good as characters. They're literally just parents with no personalities whatsoever. That's what happens when you have a child, apparently. So yes, the two leads are a little uninspired and it shows in the performances. It's not like Julia Stiles and Scott Speedman were bad, it's that they clearly weren't into it. I like Julia Stiles, I think she's a good actress, but you wouldn't know it from watching this film. Unsure about Scott Speedman, I've honestly not seen enough of him to determine whether he's good or not. I know who the guy is and I've seen several movies he's been in, but I've never been swayed one way or the other in terms of his acting abilities. Stephen Rea is the most interesting character of the entire film, but that's because he's the one who's most tied to what happened in the first place. I do think the cinematography is good and it captures the Colombian scenery fairly well. Nothing to write home about, but the film at least looks good. This isn't a terrible movie, by any means, it's just one that is content to rely on old concepts instead of bringing some new ones of its own into the mix. Not every film has to be unique, but when you're in the crowded ghost subgenre, then it'd help a lot to stand out of the pack. This is watchable, slightly below average at best, but completely skippable.
See Details