Owl and the Sparrow
(2009)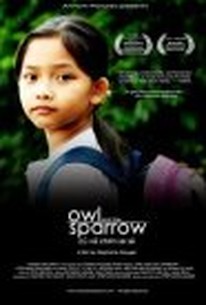 Owl and the Sparrow Photos
Movie Info
A girl who refuses to surrender her optimism despite difficult circumstances brings two unlikely strangers together in this comedy drama from Vietnam. Thuy (Pham Thi Han) is an orphan who, after the death of her parents, has been sent to live with her uncle Tran Le Minh (Nguyen Hau). Tran runs a company that processes bamboo, and he puts Thuy to work in his factory, where's she puts in long hours and is treated poorly by her uncle and his associates. Convinced life has better things to offer, Thuy runs away to Saigon, and she soon makes friends with a handful of plucky fellow orphans who survive on the street and look out for one another. Thuy supports herself by selling flowers, and during her rounds she meets Hai (Le The Lu), a friendly zookeeper who is looking after a baby elephant that is soon to be sold. Thuy and her friends meet every day at a diner where a boy (Hoang Long) serves the kids soup; another regular at the restaurant is Lan (Cat Ly), a stewardess who takes a liking to Thuy and lets the girl stay with her when she's in town on layover. Thuy senses that Lan is lonely, much like Hai, and she decides that with a little intervention on her part, Hai and Lan might make a good couple and she could become their adopted daughter. However, Thuy soon learns that matchmaking is a more challenging task than she realized.
Critic Reviews for Owl and the Sparrow
Audience Reviews for Owl and the Sparrow
½
A really good, sweet, honest and touching movie. The cast is excellent, the story is well-crafted, and it shows quite well despite an obviously tiny budget. I enjoyed getting a glimpse of a very different culture, and people, who are able to find happiness in friendship despite the difficult circumstances they live in. Beautiful. Poignant. Made me tear up..what more can I gush about?
Cynthia S.
Super Reviewer
Owl and the Sparrow Quotes
There are no approved quotes yet for this movie.