Paid in Full
(2002)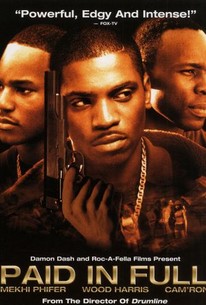 Movie Info
Paid in Full marks the feature debut of director Charles Stone III, who rose to fame after creating Budweiser's "Wassup" commercials. The urban gangster drama is loosely based on the true story of 1980s Harlem drug kingpins AZ, Rich Porter, and Alpo. (This story was also the basis for a documentary, Game Over (Part 1).) Ace (Wood Harris) works at a laundromat, struggling to get by, while his friend Mitch (Mekhi Phifer) lives the high life selling heroin. His sister's boyfriend, Calvin (Kevin Carroll) also sells drugs, and looks down on Ace for struggling to earn a living. Out delivering laundry one day, Ace meets Lulu (Esai Morales), a big time coke dealer, who lives better than anyone Ace has ever known. When Lulu leaves some coke in the pocket of a coat he's having cleaned, Ace returns it to him, and Lulu rewards him for his honesty by letting him keep the drugs. When Calvin gets busted, Ace hesitantly takes his place in the neighborhood, and starts working for Lulu. As the crack business takes off, Ace finds himself making more money than he knows what to do with. Mitch goes to jail for a short time, where another inmate, Rico (rapper Cam'ron in his acting debut), defends him in a fight. By the time Mitch gets out of prison, Ace is running the neighborhood. Ace makes Mitch his right-hand man, and when Rico gets out of jail, he joins the crew. The drugs and money flow, and Ace tries to keep everyone happy, but there are some who want what's his, and will stop at nothing to get it. Paid in Full was shown at the 2002 Urbanworld Film Festival.
Critic Reviews for Paid in Full
Audience Reviews for Paid in Full
Tropes upon tropes. Interesting, over-dramatic, but typically what you'd expect. It involves struggling in the "hood" and someone eventually ends up getting killed.
Joshua Chappell
½
great film to show what the 80's was Like in New York. great aging and movie plot. one of my favorite films.
Robert Ybarra
I thought this movie was fantastic. Wood Harris is a great actor and can be a fantastic one if he is supported with a good plot and good actors around him and thats what they did in this movie.
Brandon Sasserson
Discussion Forum
Discuss Paid in Full on our Movie forum!