Panic in Year Zero! (End of the World)
(1962)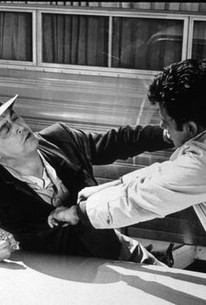 Panic in Year Zero! (End of the World) Photos
Movie Info
Ray Milland both starred in and directed the morose, minimalist sci-fier Panic in the Year Zero! (original title: Panic in Year Zero!). En route from Los Angeles to a vacation in the mountains, Harry Baldwin (Milland), his wife, Ann (Jean Hagen), and his teen-aged children, Rick (Frankie Avalon) and Karen (Mary Mitchell), are appalled to see a mushroom cloud forming over the L.A. skyline. With the highways clogged by panicking motorists, Milland and his family decide to head to the shelter of their fishing spot, there to wait until more news about the nuclear disaster is available. Everywhere they drive, however, the family is confronted by rampaging looters, heavily armed survivalists, and doped-up motorcycle punks. Attempting to remain calm and collected in the face of Armageddon, Milland ends up as violent and animalistic as everyone else. Though it avoids proselytizing for the most part, Panic in the Year Zero! does fall back on the old reliable "The Beginning" fadeout title. The most powerful aspect of the film is the "normalcy" of Milland's family: we are made to feel throughout that what happens to them could very well happen to us, and how then would we react?
Critic Reviews for Panic in Year Zero! (End of the World)
Audience Reviews for Panic in Year Zero! (End of the World)
Ray Milland directs and stars in this straightforward contemplation on the hysteria the fall of civilization might bring. Its a lean and muscular piece, and better than one might be inclined to think considering the source (American International).
Kevin M. Williams
Super Reviewer
½
This is a really good apocalyptic movie, with an interesting cast, and a good story. I'd really like to re-watch it, though, I can't remember it very well.
½
Did Ray Milland's B-movie epic "Panic in the Year Zero" serve as an inspiration for Cormic MaCarthy's "The Road"? I'm not sure. But I do know that just ten short years after starring in "Singin' in the Rain", the beautiful and talented Jean Hagen was reduced to playing Frankie Avalon's mother (and she was only 39 at the time- only in the movies could a 57-year old man be married to a 39-year old woman and have a 22-year old son together). A nice, California family wakes up at the crack of dawn, loads up the camping trailer, and heads out for a weekend fishing expedition. Some miles outside of Los Angeles, they hear sounds they hear sounds of thunder, but when they look back and see a mushroom cloud, they realize World War III has broken out. From then on, it's a race for survival as people become more desperate. Milland not only directs but stars as the Mad Max-ian survialist father, and Frankie Avalon plays a twerpy yet potentially homicidial teenager. The mother and daughter are almost reduced to decorative furniture (apart from an attempted rape scene) and really, the end of the world is no place for a lady anyway. It's at times a fairly dramatic and suspenseful movie and at others it delves down into the cheese, but that doesn't stop it from being entertaining none the less.
Devon Bott
Super Reviewer
Panic in Year Zero! (End of the World) Quotes
There are no approved quotes yet for this movie.