Paranormal Entity
(2009)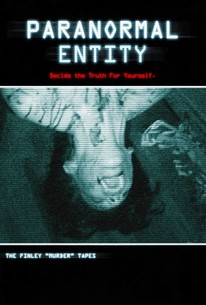 AUDIENCE SCORE
Critic Consensus: No consensus yet.
Movie Info
In 2008 the Finley family was brutally murdered in their comfortable suburban home. A videotape was discovered at the scene of the crime. Do you dare watch it?
Critic Reviews for Paranormal Entity
There are no critic reviews yet for Paranormal Entity. Keep checking Rotten Tomatoes for updates!
Audience Reviews for Paranormal Entity
[img]http://images.rottentomatoes.com/images/user/icons/icon13.gif[/img] The whole remarkablility of Paranormal Activity was in how it became so profitable from it's infinetely narrow budget, and how it was structurally well put together and the amount of screams it brought out in some audiences. This was a golden opportunity for The Asylum throughout their long and pointless career to cash in on the movie of the season. Typically, the company couldn't even duplicate something as intellect shatteringly simple as Paranormal Activity. I urge everyone to avoid Paranormal Entity not for the usual reasons such as it's hugely misleading title but because even for fans of bad movies, this one will just be so unspeakably dull. All of the acting is forced, the characters are all uninteresting, the direction, even for mockumentary style, is awful, and worst of all, it's extraordinarily unscary. It's just depressing how lazy this film is when the producers had a genuine opportunity to make a good rip-off with it. The ghost activity overall is so badly uninventive and so boring beyond all comprehension that it makes the Paranormal Activity sequels look like The Blair Witch Project. I never really understood the hype around Oren Peli's original Paranormal Activity, I got why some people found it scary and why I didn't. I thought it was unremarkable but boasted nail biting suspense, but when it comes to Paranormal Entity, if anyone find's it scary, I am going to scream, but not in the good horror movie sense.
Directors Cat
Super Reviewer
Stupefyingly dull Asylum "mockbuster", trying to cash in on the Paranormal Activity effect. Some surprisingly positive reviews had me hoping for that rare occasion when the rip off is better than the original, but that is most definitely not the case here. Incredibly prolonged sequences of camcorder footage and "what was that?" (nothing) type dialogue before an appropriately damp squib ending. Unlike Paranormal Activity, this is a badly made and acted film with no redeeming qualities.
Daniel Parsons
Super Reviewer
½
I thought this was pretty comparable to Paranormal Activity. It was very creepy, but the ending was disappointing. There was a huge gap during which they left out a large part of what happened.
Erin Collins
Super Reviewer
Paranormal Entity Quotes
There are no approved quotes yet for this movie.