Passengers
(2016)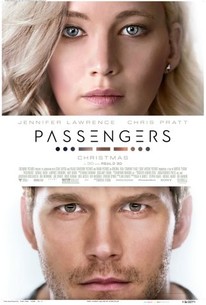 TOMATOMETER
AUDIENCE SCORE
Critic Consensus: Passengers proves Chris Pratt and Jennifer Lawrence work well together -- and that even their chemistry isn't enough to overcome a fatally flawed story.
Movie Info
Jennifer Lawrence and Chris Pratt star in an exciting action-thriller about two passengers who are on a 120-year journey to another planet when their hibernation pods wake them 90 years too early. Jim and Aurora are forced to unravel the mystery behind the malfunction as the ship teeters on the brink of collapse, with the lives of thousands of passengers in jeopardy.
News & Interviews for Passengers
Critic Reviews for Passengers
Audience Reviews for Passengers
Chris Pratt and Jennifer Lawrence star in the extraordinary science fiction odyssey Passengers. When James Preston is awoken prematurely from hibernation on his way to a new colony he's faced with a lifetime of isolation on the ship's 120 year journey and must find a way to survive. Both Pratt and Lawrence give excellent performances and have good onscreen chemistry. And the writing is especially smart, tackling some heavy issues and presenting a fascinating vision of space travel. Also, the special effects are incredibly well-done, really capturing the majesty and vastness of space. Additionally, the score by Thomas Newman is extremely evocative; intensifying the action and the drama. While the material may be a little familiar, Passengers is exceptionally well-crafted and remarkably compelling.
Dann Michalski
Super Reviewer
Over a year ago when I began reading the synopsis for Passengers, my interested continually blossomed into a flat-out must-see film. One of my favourite films of 2014 was The Imitation Game, so naturally any project that director Morten Tyldum wants to work on next would get me excited. Then the first trailer dropped and had me worried that this would just be a complete star-vehicle with no substance or real meat to the story. Then came the overwhelmingly negative response of many casual moviegoers and critics alike. I personally believe that the hate on this film is far too large and that there is a great movie in here, trying to escape the endless amount of cliches being thrown at it. Passengers is a great premise, that slowly becomes a watchable blockbuster, which then slowly devolves into the most annoying third act of 2016. Here is why Passengers is nothing but wasted potential. For those of you who don't know that the trailer is slightly different from what the actual plot Passengers is, please be advised that I will be explaining the plot in detail, but I will still leave spoilers out. 15,000 people have been placed in chryosleep aboard the Avalon, on a 120 year journey to inhabit a new planet called Homestead II. After the first 30 years, a passenger by the name of Jim Preston (Chris Pratt) has a malfunction in his chamber, waking him up 90 years too soon. Living on the spaceship alone for over a year, trying to figure out how to resolve any of his issues, he eventually decides to awaken a companion in Aurora Lane (Jennifer Lawrence). For the first act of this film, I was sucked in. Chris Pratt played this character in a very believable manor and Jennifer Lawrence riffed with him very well. Their premise, along with their chemistry is what truly made this film as enjoyable as it was. Let me get this out of the way. I enjoyed Passengers, but the film itself is not all that good in the long run. Let's dive into the nitty gritty. Once the second act sets itself in motion, there is a solid 30 minute chunk of the film that solely focusses on the romance that blossoms between the two of them. Him knowing that waking her up was wrong and her not knowing he did it makes for some solid tension between them, but it's really just a cliche that is set up for a later plot device. The second act of this film rapidly turns Passengers into a love it or hate it romance story between to actors, which I was actually buying into for the most part, but the way the film decides to take a huge turn is what almost makes the third act unwatchable. This is where the film really began to annoy me. Okay, it's one thing to have the ship malfunction, but the absurd amount of reveals, solely to make its audience gasp, was not warranted in my opinion. There is a plot device that is utilized throughout the third act that could easily have been removed from the entire film (which was a good 30 minutes if not more) and the conclusion would have literally not changed a bit. This was purely filler to make it a two hour feature film. For someone who loved the setup, loved the chemistry between these two leads, and was hungry for a tragic love story in space (which is what would have made the film great in my opinion), Passengers is just one big disappointment. Passengers begins as an A+ film in my opinion, but becomes a D+ film at best throughout its final act. Having said that, the overall film is not something I dislike as a whole and definitely doesn't deserve as much flack as it has been receiving, but the final product just isn't all that impressive. It has some very well-done space visuals, a great first act, and characters that I was able to follow, but it's sadly just a B-movie at the end of the day, and an average one at that. If you have had high expectations and have yet to see this film, I still recommend checking it out on the big screen, but I would definitely suggest lowering your expectations. Don't listen to the hate, but don't expect too much either. Passengers is an okay film that should have been great!
I saw this movie as a love story that took place in space. I liked it though and enjoyed the visuals.
Passengers Quotes
There are no approved quotes yet for this movie.
Discussion Forum
Discuss Passengers on our Movie forum!