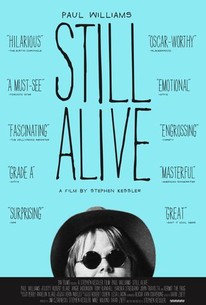 Paul Williams Still Alive
2011, Documentary/Biography, 1h 24m
32 Reviews
500+ Ratings
Where to watch
Rent/buy
Rent/buy
Rent/buy
Rate And Review
Paul Williams Still Alive Photos
Movie Info
Filmmaker and longtime fan Stephen Kessler's portrait of the award-winning 1970s singer-songwriter-actor, who disappeared for much of the 1980s and '90s, but still performs today.
News & Interviews for Paul Williams Still Alive
Audience Reviews for Paul Williams Still Alive
"Paul Williams: Still Alive" is a moderately involving documentary whose lesson is not to not meet one's heroes but rather to not get personally involved with one's fans. That's because Paul Williams fan Stephen Kessler who was at first surprised that he was still alive tracks his hero down to Winnipeg where he is performing in concert, signing autographs and body parts and consuming insane amounts of squid. Later, Kessler films him on tour, apparently only to badger him over two continents as to why he appeared in such 70's television series as 'The Gong Show.' Three reasons are readily apparent: One for the money, two, because Williams was such a ham and three, how many people can say they were shot by Angie Dickinson? In fact, I was thinking over the first twenty minutes of this documentary that this was the first time Kessler picked up a camera. And then it is revealed that Kessler has actually directed a couple of features, along with commercials. I guess directing a documentary is harder than it looks.

An interesting look and an interesting man, this documentary strays from the usual doc format - whether that is a good thing is debatable, as filmmaker Stephen Kessler's decision to insert himself squarely in the middle of the proceedings is a double edged sword - giving a better narrative while also destroying the wall between celluloid and viewer and making the effort seem almost as much about him (actually showing clips of his other works) as about the multi grammy award and oscar winning songwriter/actor and celebrity. Perhaps the 65 year old Williams wasn't interested in traipsing down memory lane - which he clearly insists over the course of the filming. He has "found himself" in the relatively calm existence, where he still performs, but isn't basked in the glory - except for an almost surreal trip to the Philipenes where he packs 20,000 seat stadiums... what a trip that must have been for him - and yet Kessler doesn't even attempt to delve into this aspect (although he does try to get Williams to expound on the "I had it all then, and where am I now" theme - something that Williams brushes off with a simple "the past is past" bit of repartee. Kessler spent over two years following his self admitted "boyhood idol" around - and it's surprising to me that he couldn't have ended up with better footage than the oft times off center and skewed camera work on display here. The bit of clumsy hand held footage on a golf course should have been left on the cutting room floor - as it had absolutely no purpose other than to once again insert Kessler into the narrative. What shines here, and makes this film a necessary view is all the archival footage of Williams back in his heyday - aside from being a veritable hit machine, having penned most of The Carpenters gold hits, he also penned Old Fashioned Love Song for 3 Dog Night and co-wrote Evergreen with Streisand (which garnered him an Oscar when it was included in the film A Star Is Born) - his wit and bravura landed him guest shots on just about every tv show imaginable, including appearances on The Late Show over 50 times. Personally I remember him from the dark humored The Loved Ones (based on the Brit novel by Evelyn Waugh), a film which showcased Johnathan Winters and Rod Steiger. There is brief footage of Williams as a boy scientist included in the documentary, but I was disappointed in not seeing more of the Brian DiPalma film Phantom of The Paradise, in which Williams not only starred, but wrote all of the music. There is a brief scene showed in a collage of "stardom", and the only other mention of the film was that it failed - hmm, a cult classic in my book, so I question "failed". In any case, this was a fun and enlightening trip down memory lane for me (if not for Williams himself) - I just wish that Kessler would have kept his own travails out of the mix.
See Details