Payday
(1973)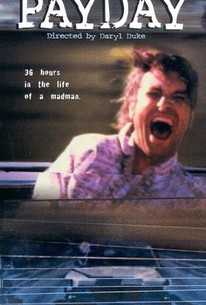 Movie Info
While all the critics were doing nip-ups over Bruce Beresford's 1983 Tender Mercies, in which Robert Duvall played a burned-out Country & Western star, there were a straggling few who pointed out that much of the same ground had been covered in the 1972 "sleeper" Payday. The main difference was that, while Duvall finds redemption, the C&W singer in Payday, played by Rip Torn, starts out a heel and stays there. We follow Torn through 36 hours of a grueling concert tour from one fleapit to another. While there is a measure of pathos in Torn's reduced circumstances, it's hard to develop any real sympathy for him; after all, no one is forcing all those drugs and groupies on him, nor is anyone twisting his arm to be nasty and vituperative. Torn's Oscar-calibre performance is evenly matched by the hand-picked supporting cast, including Michael C. Gwynne, Anna Capri and Elaine Heilveil. Payday is not for the viewer who thinks of Country-Western music only in the glamorized terms of Dolly Parton and Garth Brooks; for those who want more raw meat in their film fare, this little picture is highly recommended.
Critic Reviews for Payday
Audience Reviews for Payday
½
In "Payday," Rip Torn takes advantage of a rare leading role and runs with it. In this film, he plays Maury Dann, a country musician, who is currently at a crossroads in his career. His manager Clarence(Michael C. Gwynne) advises him to take some time off in Nashville, where he can record a little, and maybe appear on Johnny Cash's show, after a concert in Birmingham, so as to avoid a process server who may be looking for him. Maury, by contrast, wants to continue the tour into New England. For the time being, all he wants to do after the concert is to drink beer and have sex. "Payday" is a modest character study of somebody who is not modest in the least, answering the question once and for all as to whether talent has any connection with how good a person is. For Maury, it all comes down to his past which he can never escape, either his mother(Cara Dunn) who he supports and visits occasionally or his children that he has lost touch with. This was also filmed at an interesting time for the South, just after it had recently integrated.
A feeling very close to exhaustion, a kind of psychic emptiness, pervades this film.
Robert Fearon
Super Reviewer
Rip Torn is fucking amazing in this flick. I have always appreciated him, but felt it was sad that most people will remember him for Men in Black and Dodgeball (which he was funny in, but, still..) because you see him in a performance like this. The script is pretty interesting but takes some dumb, movie cliche turns that went against it's day in the life type story line. I could have watched Rip Torn talk to people all day, but they had to get a plot going and the co-stars are bad at best. The thing that saved this movie was the ending which I loved and wondered why the middle of the movie went so wrong.
Payday Quotes
| | |
| --- | --- |
| Maury Dann: | "You only go by once: you may as well go by in a Cadillac" |
| Maury Dann: | You only go through this life once. You might as well do it in a Cadillac. |