Peppermint Frappe
(1967)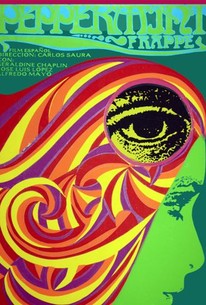 AUDIENCE SCORE
Critic Consensus: No consensus yet.
Movie Info
Geraldine Chaplin shines in a double role in this drama by celebrated Spanish director Carlos Saura. Julian (Jose Luis Lopez) is a middle-aged physician who is content to live out his retirement in the solitude of the country. His playboy brother Pablo (Alfred Mayo) brings his new bride Elena (Chaplin) for a visit, and in spite of Julian's strict upbringing and evident sexual repression, he falls in love with his new sister-in-law. Julian is floored at the striking resemblance between Elena and a nurse named Ana in the local village. The mild-mannered medico is tormented when he is rejected by Elena, and Paolo discovers his brother's obsession with his bride.
Critic Reviews for Peppermint Frappe
All Critics (1) | Fresh (1) | Rotten (0)
A lesser Vertigo-like tale about a repressed middle-aged doctor, who is erotically obsessed over a girl he once saw at a demonstration during his youth.
Audience Reviews for Peppermint Frappe
"Peppermint Frappe" ends with a dedication to Luis Bunuel, but the master's influence becomes obvious much earlier. The lecherous plot -- callous siren teases older fetishist -- comes straight from Bunuel's pet themes. The nod to "Vertigo" is also hard to miss. Julian (Jose Luis Lopez Vazquez) is a balding, middle-aged radiologist. Far from likable, he smokes too much and steadily glistens with an anxious sweat. He has a shy but beautiful assistant named Ana (Geraldine Chaplin, in her first of nine films with director Carlos Saura). Julian is reunited with his old friend Pablo (Alfredo Mayo), and is immediately consumed with Pablo's alluring wife Elena (Chaplin again, this time in a blonde wig). He has an image stuck in his mind of an exuberant, unidentified girl he saw beating a drum at a past regional celebration -- Elena is either that very girl, or just someone who resembles her (flashbacks supply Chaplin with a possible third role). But Julian doesn't care much about the truth. He's hooked either way. From there, his fixation only deepens. He courts Ana as a poor substitute, and obsessively goads her to adopt Elena's glamorous makeup, dress and hair. He even puts a drum in her hands. But it's only a matter of time before he turns back to Elena -- despite her marriage to Pablo. Elena senses his attraction and cruelly toys with him. Tension builds, and a happy resolution seems unlikely. "Peppermint Frappe" deviates little from Bunuel's playbook. The only strong difference is its prominent use of contemporary rock music. Bunuel typically rejected the comforts of musical scoring, but Saura has no such reservations. What's more, the film's central song, "The Incredible Miss Perryman," is marvelously catchy.
Eric Broome
Super Reviewer
Peppermint Frappe Quotes
There are no approved quotes yet for this movie.