Perfect
(1985)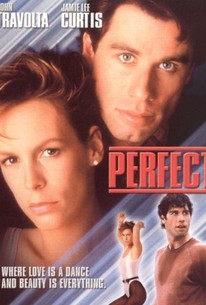 Movie Info
Based on a series of Rolling Stone articles by Aaron Latham, this romance was set in the world of L.A.'s hip fitness scene. Rolling Stone reporter Adam Lawrence (John Travolta) comes to L.A. to write a story about a prominent businessman who's been arrested for drug dealing (shades of the John DeLorean scandal). He's also decided to research a piece on the exercise fad and how health clubs have become the "singles bars of the '80s." His boss (real-life Rolling Stone editor Jann Wenner as himself) OK's the project. At a club called The Sports Connection, an incognito Adam meets the regulars, including promiscuous Linda (Laraine Newman), airhead Sally (Marilu Henner) and aerobics instructor Jessie (Jamie Lee Curtis), a former Olympic swimmer. Adam and Jessie begin a romance, but it ends when she discovers that he's there to trash her and the club in print. Conflicted, Adam wrestles with publishing the story, but the final decision isn't his. A director of sincere, sober dramas, James Bridges was an odd choice to helm the romantic Perfect (1985), widely considered one of the decade's notorious cinematic misfires. Bridges had enjoyed much greater success with his previous collaboration with Travolta, Urban Cowboy (1980).
Critic Reviews for Perfect
Audience Reviews for Perfect
I am guessing that cinematographer Gordon Willis had to shoot this and another turkey, "The Money Pit," to atone for his comparing himself to Rembrandt! As you can imagine, it's a superficial story about health clubs being single's bars. But, in the hands of serious director James Bridges, it's trying to be a movie about journalistic ethics. Of course, it doesn't work, and is considered to be one of the 80's greatest flops. The cheesy 80's music and costumes eternally date the movie and make it only a superficial document of the decade.
John Miller
A movie known more for its leg-warmers than anything else. There is no story and is nothing more than a reason to show Curtis and Henner in spandex.
Mike L
When a Rolling Stones journalist decides to write an article on health clubs in the 80's, he meets some resistance in a female aerobics instructor. A star packed film with a great soundtrack makes this 80's cult movie a must see...though the story leaves something to be desired. Watch at your own risk!!!!!!!!!!!!!!!
Leo Blaschke
Perfect Quotes
There are no approved quotes yet for this movie.
Discussion Forum
Discuss Perfect on our Movie forum!