Performance
(1970)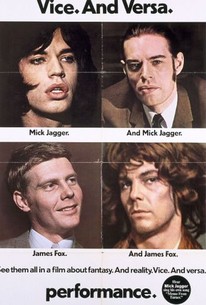 Movie Info
This psychological crime thriller finds Chas (James Fox) as a crook on the run from the law. He hides out at the house of Turner (Mick Jagger), a rocker who lives with Pherber (Anita Pallenberg) and Lucy (Michelle Breton). Sexual situations and sadism prompted the original X rating, that was later rescinded to R. Randy Newman conducts the music of Jack Nitzsche for this psychedelic psychodrama.
News & Interviews for Performance
Critic Reviews for Performance
Audience Reviews for Performance
½
Roeg's first film is a strange trip with a deranged Mick Jagger.
Graham Jones
Super Reviewer
Gangland enforcer James Fox gets involved with decadent fading rock star Mick Jagger in Nicholas Roeg's and Donald Cammell's cult film Few films encapsulate drug-crazed Swinging 60s London like this one, though it was only seen three years after it was made and then heavily-edited because Warners were shocked at what they had financed. The film exceeded the boundaries of good taste that always epitomized British cinema. This superbly shot, deeply disturbing, complex, often pretentious, often brilliant parable of confused identity was the first feature directed by leading cinematographer Roeg, sharing the credit with artist Cammell. An eerily plausible Fox, cast against type, plays Chas, a sadistic gangster on the run who rents a room in the Notting Hill Gate home of Turner (Jagger), a reclusive, sexually ambiguous, washed-up rock star. Fox, his antithesis, is offered women and magic mushrooms before literally swapping personalities with the singer. Fox abandoned the cinema for almost a decade after this film, such was its effect on him. Verdict A dazzling, ideas-rich, extraordinarily inventive full-stop to the 60s
Cassandra Maples
Super Reviewer
½
Mick Jagger plays a washed up rock star, which couldn't have been to hard for him to play. No, the performance involved is of the mobster who rents a room with them and pretends he's hip. This is an interesting movie, both if you're a Jagger fan, and if you want to see a movie about swinging 70s culture, and rock stars. I really liked this movie.
Performance Quotes
There are no approved quotes yet for this movie.