Personal Shopper
(2017)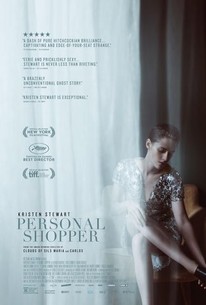 TOMATOMETER
AUDIENCE SCORE
Critic Consensus: Personal Shopper attempts a tricky series of potentially jarring tonal shifts with varying results, bolstered by a performance from Kristen Stewart that's impossible to ignore.
Movie Info
Grieving the recent death of her twin brother, she haunts his Paris home, determined to make contact with him.
News & Interviews for Personal Shopper
Critic Reviews for Personal Shopper
Audience Reviews for Personal Shopper
ANTI-BELLA - My Review of PERSONAL SHOPPER (3 Stars) When the history books have been written on Kristen Stewart's career, they will most likely be divided into three chapters, BEFORE TWILIGHT, THE TWILIGHT YEARS, and AFTER TWILIGHT. Like most people, she came to my attention as Jodie Foster's daughter in 2002's PANIC ROOM and continued to impress me with her appearance in INTO THE WILD. She lost me completely when she "um-ed" and "paused" me to death in the TWILIGHT series, but even then she continued to impress with roles in ADVENTURELAND, THE RUNAWAYS, and ON THE ROAD. Once liberated from her empty Bella Swan big studio servitude, Stewart has mostly appeared in smaller films with such impressively committed turns with STILL ALICE, the otherwise execrable CAFE SOCIETY, AMERICAN ULTRA, and especially CLOUDS OF SILS MARIA by writer/director Olivier Assayas (IRMA VEP, CARLOS, DEMONLOVER). In CLOUDS, she played the assistant to a famous actor (Juliette Binoche) and in doing so, she became the first American actress to ever win the coveted French César Award. With PERSONAL SHOPPER, she reunites with Assayas to play Maureen, another assistant to a celebrity, this time her personal shopper. On paper, it feels like Assayas and Stewart have repeated themselves, and while Assayas' distinctive tone remains in place and they compliment each other nicely, the films cover much different territory. The deeply unsatisfied Maureen works in Paris for Kyra (Nora von Waldstätten), an unstable diva who sends her to high end boutiques to pick up outfits for a constant stream of appearances. While Maureen does her job well, she has much more important things on her mind, such as spending more time with her boyfriend, who remains stuck on assignment in Oman. She also mourns the loss of her twin brother Lewis, who recently died of a heart attack. Considering herself a Medium, Maureen has committed herself to contacting Lewis, whom she feels may still haunt the house he last occupied. Sharing his heart condition, they pledged to each other that if one of them dies, they will communicate to the other. On the surface, PERSONAL SHOPPER plays out like a ghost story. Things do go bump in the night, apparitions appear, and Assayas manages to create several scary sequences. The main thrust, however, focuses on Maureen's journey as a person stuck in a life she hates. Good thing too, as the spiritual elements sometimes feel half-baked, but Stewart remains stunningly compelling throughout. Whereas Stewart had Binoche to play off of in CLOUDS, this film requires her to act solo for most of it. It takes tremendous skill to literally play emotions opposite an endless series of text messages. The 30 minute sequence in which Stewart shops from Paris to London and back again finds her typing away with an Unknown Caller who seemingly has followed her every move. Is it Lewis? Is it a human stalker? Although potentially tedious, Stewart drew me in with her tremendous compassion. Yes, she could lighten up a little, but a dead brother who holds her back from living her life doesn't feel like the appropriate time for a knock-knock joke. Like CLOUDS, Maureen goes through a transformation, but with this film, it's pretty unambiguous. She takes baby steps by trying on her boss' clothes, a strictly forbidden act. Much will be made about Stewart's nudity and raw sexuality in these scenes, and rightly so. Stewart has that rare, delicious ability to convey gender and sexual fluidity, pretty much appealing to anybody who breathes oxygen. Gifted cinematographer, Yorick Le Saux (A BIGGER SPLASH and frequent Assayas collaborator) finds great moments of beauty in this film. While the CGI ghost imagery feels serviceable at best, there are sequences such as the spooky one in the hotel lobby and the dressing scenes in Kyra's apartment that feel indelible. Much of PERSONAL SHOPPER may seem aimless to viewers who expect a consistent amount of jump scares and action in their horror films. Think of this as the art film version of the genre. Sure, the third act kicks into high gear with its share of surprises, but just don't confuse this film with POLTERGEIST. It's much more cerebral. Assayas clearly emulates Hitchcock every time he abruptly fades out of a dialogue scene or by creating suspense by allowing the audience to see things Maureen doesn't. Unlike the Master Of Suspense, Assayas has his own softer rhythms. In the opening scene, for example, Maureen walks through Lewis' house, quietly whispering his name. Hitchcock would have had his heroine yelling from the rafters. Assayas likes to calm his characters down and explore the gentleness in humans. It's not as exciting as a good old-fashioned scream, but patient viewers will reap the rewards of an actor letting us in, sharing her pain. Mark my words, Stewart will win an Academy Award some day, and we'll trace it all back to her golden BEFORE and AFTER TWILIGHT periods.
Glenn Gaylord
Super Reviewer
Kristen Stewart delivers a fine performance that grabs our attention and Olivier Assayas does a very nice job to creep us out in some moments; it is just too bad, though, that he gets lost with a stupid script that has no focus, no direction and not that much interesting to say.
Carlos Magalhães
Super Reviewer
Personal Shopper Quotes
There are no approved quotes yet for this movie.
Discussion Forum
Discuss Personal Shopper on our Movie forum!