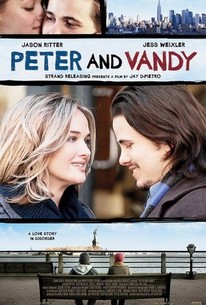 Peter and Vandy
2009, Romance/Comedy, 1h 18m
20 Reviews
500+ Ratings
Where to watch
Rent/buy
Rent/buy
Rent/buy
Rate And Review
Movie Info
Flashbacks and flash-forwards illustrate the rise and fall of a love affair between two New Yorkers (Jason Ritter, Jess Weixler).
News & Interviews for Peter and Vandy
Audience Reviews for Peter and Vandy
This was just silly. The switchbacks were annoying, as was the acting of these two.

Essentially, this film is a very basic love story, filled with all the requisite elements of a modern romantic comedy. The couple gets together, breaks up, and ... well, can you guess the end? But it clings to non-linear story-telling as though Tarantino-esque tricks will save it from the seventh ring of cliche hell. To some degree the fractured scenes kept me engaged, but it was only to the extent that I was trying to place the characters in time. If it were made next year, I would have said that this film is a cheap imitation of <i>Blue Valentine</i>. But whereas <i>Blue Valentine</i> juxtaposed the two stories to stunning effect in order to climax the joining and the separation at the same time, there is no such order to <i>Peter and Vandy</i>. The reasons for the time shifts are never readily apparent and don't add to the film's dramatic effect. Additionally, the peanut butter and jelly scene attempts to either be brutal in the the tradition of <i>Closer</i> and <i>Scenes from a Marriage</i> or funny in the tradition of <i>Hannah and Her Sisters</i>, but Peter's reaction to the way Vandy makes peanut butter and jelly sandwiches (with two knives though only one is necessary in Peter's view) is so over-the-top that we end up losing respect for both characters. Peter's loud, profane diatribe is at times quite scary, and when Vandy stays with him, we can't help but wonder why. Overall, this isn't a film with anything new to say or any new way to say it.

"Peter and Vandy" is an endearingly perceptive movie that makes great use of New York City locations, especially the overhead shot of the benches. Told in a nonsequential fashion, the movie does a good job of showing how a relationship may not always survive the initial attraction. Take Peter(Jason Ritter) and Vandy(Jess Weixler) for example. They meet sort of cute one day during lunch when she has jury duty. The first meeting when he approaches her does not go off that well, but the second one does with an assist from the New York Times crossword puzzle. But that's about the only time they are on the same page. Usually their not being in sync comes down to differences in appetites, be they gastronomic or carnal.(There's also an inference that they come from and are heading to different places.) While eating outside may usually be a fine idea, doing so during winter is not an especially appealing one.

It was an okay one, though I didnt get the chemistry at first but it's kinda growing on me at the end.
See Details