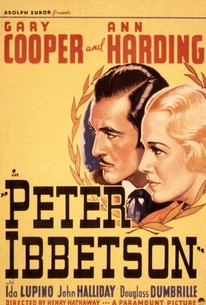 Peter Ibbetson
1935, Fantasy, 1h 28m
5 Reviews
250+ Ratings
Rate And Review
Movie Info
When his mother dies, young Peter Ibbetson leaves Paris and his best friend, Mary, behind to live with a severe uncle in England. Years later, Peter (Gary Cooper) is an architect with little time for women, until he begins a project with the Duke (John Halliday) and Duchess of Towers (Ann Harding). When Peter and the duchess become great friends, she reveals that she is Mary -- but the duke soon suspects his wife of infidelity and challenges Peter to a duel, threatening the pair's second chance.
Audience Reviews for Peter Ibbetson
self-serious and wildly sentimental, it still manages to work, due in large part to the delicate cinematography. even coop's typically stiff performance seems appropriate in this otherworldly tale of lovers who meet in dreams. 'the strangest things are true and the truest things are strange'

Odd semi fantasy film has a good performance from a dashing Gary Cooper to recommend it but the pacing is off. The mood is too earthbound to make it haunting and too celestial for a standard telling. Part of the problem is that Ann Harding while a fine actress is miscast as the object of Gary's lifelong desire, a more ethereal performer was required, Merle Oberon would have been perfect. The appearance of an almost unrecognizable Ida Lupino as a bit of Cockney baggage is a treat but she's in and out of the film in under fifteen minutes.

not great - but kinda reminds me of portrait of jennie and stairway to heaven - that transcendent love defying time and space... thaaang.
See Details