Petey Wheatstraw
(1978)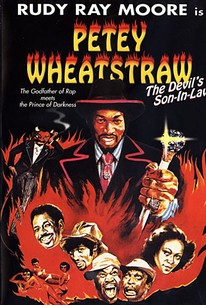 AUDIENCE SCORE
Critic Consensus: No consensus yet.
Movie Info
Impoverished, ignorant, and vulgar little Petey dreams of becoming a famous stand-up comedian and exchanges life in his backwoods home for small town living. The hapless rube isn't there very long before he begins clashing with a local comedy team, one that is a favorite of the town mobsters. To get at Petey, the gangsters murder a child and then shoot every one who attends the tyke's funeral. Things look bleak until the Devil himself rises up and tells Petey that he will give the comic a fabulous reward if only the youth will marry Satan's daughter and sire an heir. Unfortunately, the Devil's daughter is really ugly. Still, Petey makes the bargain and does his job. Satan then hands him a magic cane that the vengeful comic uses on his ruthless rivals. Unfortunately, not wanting to give the Devil the rest of his due, Pete decides to welsh on the rest of the bargain. Big mistake Petey. Big mistake for viewers who watch this tripe.
Critic Reviews for Petey Wheatstraw
All Critics (1) | Fresh (1) | Rotten (0)
In this modern age of conceited comedy that values applause breaks over laughs-willfully homogenizing itself to refrain from stepping on a single toe-Moore's unashamed brand of buffoonery is like a cool, refreshing pie in the face.
Audience Reviews for Petey Wheatstraw
Moore's third film makes the mistake of playing for intentional laughs rather than the unintentional ones that make the rest of his movies so compelling. Some movies are so bad they're great and some are so bad they're unwatchable. This is of the latter variety and makes the Wayan's brothers look like comic geniuses. I do recommend checking out Moore's brilliant opening monologue which features classic lines like "I'm gonna take the Fourth of July 'n put it in June". Don't attempt to view any further though. I'm glad this wasn't the first of Moore's films I watched or I wouldn't have bothered with the others.
The Movie Waffler
Super Reviewer
½
I've admitted many times my love for 70s blaxploitation films, often giving them pretty high marks, being very forgiving, and that sort of thing. However, with this one, I think I'm not as with the groove as I once was. Oh sure, I liked this, and it is watchable. but it's rather boring actually, and it amazed me to think how lenient I've been with these movies. Hmm. Maybe this one really does suck, or perhaps I've finally matured and am starting to see these movies for the the crap they are instead of insisting that they're unfairly maligned for one reason or another. Or maybe I'm just more of a fan of Dolemite, even though it's just as cheap, shoddy, and laughably terrible as this. Maybe it's because that one's so absurd is why I enjoy it. This one's absurd too, but it feels more forcably over the top, campy, and silly. However, exploding watermelon jokes will always be funny. Also, the opening irthing scene is admittedly so stupid it's brilliant. There is a plot here, and it is the old deal with the devil routine, and what the heck, it works I guess. I think I had a hard time with this one though mostly because I'm not a fan of the overtly slapsticky stuff (unless it's self aware parody like Black Dynamite). Maybe this is one of the first blaxploitation parodies? It could be, but I doubt it. Let's just end on a rather kind note and call Rudy Ray Moore the black Ed Wood (even though Moore didn't direct this or Dolemite, or his other films that I'm aware of), and call this one of his lesser works.
Chris Weber
Super Reviewer
No very good, but still great. Rudy Ray Moore is something else. And the word "Bonkers" (which is a stupidass word) really describes it well.
Patrick Dolan
Super Reviewer
Petey Wheatstraw Quotes
There are no approved quotes yet for this movie.