Pieta
(2013)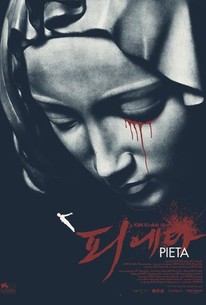 TOMATOMETER
AUDIENCE SCORE
Critic Consensus: It lacks subtlety and depth of character, but Pieta gets by with committed performances and a darkly ambitious, deceptively simple message.
Movie Info
Winner of the Golden Lion at the 2012 Venice Film Festival, Pieta is the acclaimed film from the celebrated and controversial Korean director Kim Ki-Duk (Bad Guy; Spring, Summer, Fall, Winter... And Spring; 3-Iron). In this intense and haunting story, a loan shark living an isolated and lonely existence uses brutality to threaten and collect paybacks from desperate borrowers for his moneylender boss. He proficiently and mercilessly collects the debts without regard to the pain he causes his countless victims. One day, a mysterious woman appears in front of him claiming to be his long-lost mother. After coldly rejecting her at first, he gradually accepts her in his life and decides to quit his cruel job and seek a decent, redemptive life. However, he soon discovers a dark secret stemming from his past and realizes it may be too late to escape the horrific consequences already set in motion from his previous life. (c) Drafthouse Films
People Who Like this movie also like
News & Interviews for Pieta
Audience Reviews for Pieta
½
The overwhelming dramatic strength of this gut-wrenching tale of revenge makes us forgive its undeniable lack of subtlety (especially regarding its social and political ambitions) and its absurdly amateurish direction (the awful zooms and camera movements).
Carlos Magalhães
Super Reviewer
'Pieta'. A delightfully twisted revenge tale and economic parable! A mother always lends a helping hand to her son. The camera work turning inexplicably amateurish at crucial moments took slightly away from the film.
½
In "Pieta," Gang-Do(Jeong-jin Lee) is a thug who collects for a loan shark. When the customers cannot pay the loan back in a month with 1000% interest, he cripples them, using the money from the disability settlement to pay off the debt. One day in walks Mi-Son(Min-soo Jo) into his life, cleaning the mess in his apartment before claiming to be his long lost mother. Confused and angry, he rapes her. First, a little bit of business. Except for the rape, all of the graphic violence happens offscreen. So, anybody looking for dismememberment and other bits of gruesomeness should look elsewhere. Because what Kim Ki-duk is interested in to his credit is the lingering after effect of that violence on those that now have to care for the victims. Even before that, most of the people preyed on seemed be the most vulnerable from the lower classes. Gang-Do does not take any enjoyment out of this or anything else in his life, for that matter, as he has never had anybody care for him and now leads the most basic of existences. All of which sets up an intriguing and dark nurture versus nature debate that gets resolved in the movie's own twisted sort of way.
Pieta Quotes
There are no approved quotes yet for this movie.