Pink Floyd - The Wall
(1982)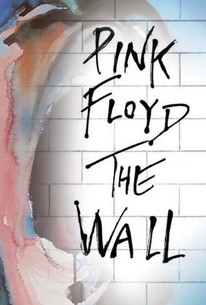 Pink Floyd - The Wall Photos
Movie Info
This musical documentary examines the impact of legendary rock band Pink Floyd's iconic 11th studio album The Wall, examining how the work was created, as well as how it affected not just the band, but music history to come. ~ Cammila Collar, Rovi
People Who Like this movie also like
Critic Reviews for Pink Floyd - The Wall
Audience Reviews for Pink Floyd - The Wall
½
One of the most surreal movies I've ever seen in my life. The story is a little hard to understand at times, especially when it comes to distinguishing what is going on in the real world or Pink's mind. However, if you like Pink Floyd music, this movie will certainly be a treat. The animation sequences are the best parts of this film, they are technically impressive and fit the disturbing look of the movie and the music. My favorite parts of the film are the "Another Brick in the Wall Pt. 2" school scene and "The Trial" at the film's climax.
Christopher Heim
Super Reviewer
½
I've been a fan of Pink Floyd since I was a kid, and this musical set to the brilliant music of Pin Floyd's album The Wall is stunning. The Wall is an eccentric concept, and in pure Pink Floyd fashion delivers masterful images set to a lavish storyline about a depressed rock star named Pink. The Wall is a film that should only be viewed by fans of the band, as the film follows the story of the album. The images are superbly well drawn and the sequences are very memorable. As a fan of the album, I was stunned at what I watched. The result is a near flawless musical set to one of Rock's greatest concept albums. This film is fairly simple, but set to the epic songs; it elevates the film to an entire level of musical. This isn't Grease; this is a true musical, with music that's from the heart. The cast do a fine job and there are some good performances in this film. But with every musical, The Wall is strong on music and not dialogue. You end up not caring because the film is so engrossing and compelling that it doesn't matter what's going on. I feel that Pink Floyd's music has always been hypnotic and intelligent. This musical is most certainly that, it hypnotizes you and takes you on an interesting journey where the lead character, Pink builds "The Wall" a metaphor for isolation. Pink seeks to isolate himself from the world, his pain, his fans and fame, and "The Wall" continues to build. This is a stunning musical set to brilliant music.
The story of a depressed, self-loathing rock star, told as a long, grandiose, surrealistic movie video. Roger Waters lyrics for "The Wall" are whiny, pretentious, muddled, and occasionally brilliant, which could be said of this entire production: it's uneven but there are many indelible, grotesque moments, and it's hard to take your eyes off the screen. Gerald Scarfe's brilliant, nightmarish animations---birds turning into warplanes, flowers mating and eating each other, marching fascist hammers---are the high point.
Pink Floyd - The Wall Quotes
| | |
| --- | --- |
| Pink's Friend: | [seeing a train approaching] Pinky, here comes the train! Get off the line, you bloody idiot, here it comes! [Pink doesn't get out off the line as the train approaches closer] PINKY, GET OFF THE LINE! |
| | |
| --- | --- |
| Rock 'n' Roll Manager: | [as he looks upon Pink's trashed hotel room] Fuck me! |
| | |
| --- | --- |
| Pink's Groupie: | [to Pink] What are you watching? [he doesn't respond] Hello? Hey, are you feeling okay? |