Piteopaeneui gongshik (The Peter Pan Formula)
(2005)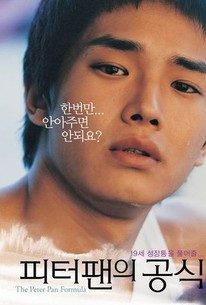 AUDIENCE SCORE
Critic Consensus: No consensus yet.
Piteopaeneui gongshik (The Peter Pan Formula) Photos
Movie Info
Korea's Cho Chang-ho displays an original sensibility and talent in this debut feature, The Peter Pan Formula, which elevates the perennial coming-of-age story into a refreshing take on adolescent dreams and desire. Because Cho has worked with the Korean master of innovation, Kim Ki-duk, viewers expect surprises, and Cho fulfills these expectations as he constructs a world where a lonely teen must deal with his mother's attempted suicide, his absent father, financial pressures, and his obsessed swimming coach. On top of all that, his hormonal fantasies about his next-door neighbor and his subsequent involvement with her daughter only partially prepare us for a film that spins off into imaginary realms and subplots at will. But that's all part of the invigorating energy of a film experience that skips from genre to Freudian metaphor, from blunt sexual escapades to quirky humor and resolutions. Cho's artistic command of filmmaking is aptly displayed. His actors and visual style are in tune with his vision. Now he simply needs to find an audience willing to take the leaps required by this combination of familiar teenage angst and edgy artistic storytelling.-- (C) Sundance Film Festival
Critic Reviews for Piteopaeneui gongshik (The Peter Pan Formula)
All Critics (2) | Top Critics (1) | Fresh (2) | Rotten (0)
Director Cho shows a steady hand and a good eye.
June 22, 2006
The plot elements also have a habit of fizzling out, as the film zips off on a different tack, which is confusing and annoying in equal measure.
Audience Reviews for Piteopaeneui gongshik (The Peter Pan Formula)
½
The Peter Pan Formula is not about never ending youth. Instead it deals with becoming an adult. Even if it means dealing with a lot all at once. After his mother goes into a coma Hansoo must care for her, deal with debts and as a result he suffers in swimming and at school. Although he doesn't exactly find solace in those around him he does gently observe those close to him (literally close, not in an emotional way). There's the daughter of his mother's roommate at the hospital who prostitutes herself out, presumably to pay for the medical bills. His next door neighbour who tries to help Hansoo in a bizarre way and her step daughter who may be mentally ill or may be faking. These are broken people in many ways and Hansoo does himself no favours in associating himself with them as opposed to the teachers and swim coaches that wish to help. He learns things in his own way and like us all must make mistakes. The film handles its subjects very delicately even when they may seem crude. A scene that finds Hansoo having to bathe his mother captures the awkwardness and tenderness all at once. The film uses supporting characters as ways to explore Hansoo which can sometimes leave them feeling empty and under explored. The delicate handling of weird situations will also turn some people off but overall it's an interesting if uncomfortable ride.
Luke Baldock
Super Reviewer
Piteopaeneui gongshik (The Peter Pan Formula) Quotes
There are no approved quotes yet for this movie.